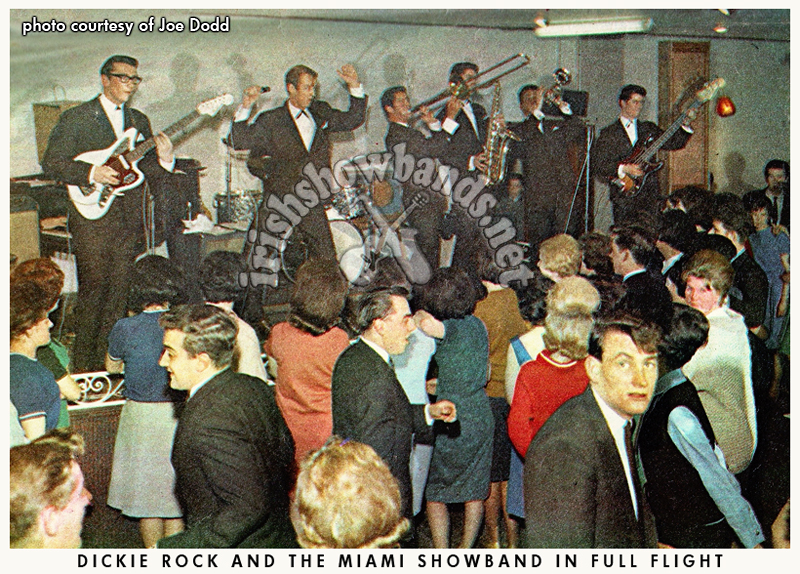 When the words "Miami Showband" come up in conversation, one's mind immediately goes back to that terrible day in 1975, when news broke from Northern Ireland that an Irish showband had been ambushed by a loyalist terrorist group and three musicians had been murdered. Guitarist Tony Geraghty, who had only recently joined the band, trumpeter Brian McCoy and organist/vocalist Fran O'Toole were dead; saxophonist Des Lee and bassist Stephen Travers lay critically ill in hospital having been shot.
This was a sad last chapter to a story which had begun thirteen years earlier when a four-piece group called The Downbeats Quartet (pianist Joe Tyrrell, drummer Tony Bogan, guitarist Clem Quinn and saxophonist Martin Phelan) were approached by impresario Tom Doherty with an idea to create a top-class showband. Trumpeter Tommy O'Rourke, trombonist/vocalist Murty Quinn, bassist Tony Harris and vocalist Jim Harte were enlisted. The new band made their debut in The Palm Beach Ballroom, Portmarnock and chose the name The Miami Showband. Denis Murray were enlisted and a dynamic young singer named Dickie Rock came from one of Dublin's top bands, The Melochords. Early changes in the line-up saw Denis Murray (bass) and a dynamic young singer named Dickie Rock from one of Dublin's top bands, The Melochords joining The Miami.
Before long, The Miami, whose astute manager Tom Doherty left nothing to chance, were among the top draws at ballrooms all over the country. Their first single, Dickie Rock's interpretation of a song which had been a hit in the U.S.A. for Elvis Presley, "There's Always Me" shot up the charts to No.1 in December 1963. This was to be the first of seven number ones for the Dublin band, the others being "I'm Yours", "From The Candy Store On The Corner" (both 1964); "Every Step Of The Way", "Wishing It Was You" (both 1965); "Come Back To Stay" (Ireland's Eurovision entry in 1966) and "Simon Says" in 1968. During these years they also had two No.2s with "Just For Old Times Sake" and "Round And Around". Murty Quinn with "One Kiss For Old Times Sake" and Clem Quinn's instrumental "Buck's Polka" also made the charts.
They appeared on many television shows including the prestigious "Sunday Night At The London Palladium" in 1964, ITV's "Thank Your Lucky Stars" and "Adam Faith's Christmas Show" as well as RTE's "Showband Show". (continued below)
Based in Dublin | formed in 1962
Lead Vocals: Jim Harte | Dickie Rock | Frankie Simon | Billy Mac | Mick Roche | Charlie Chapman*
Lead Guitar: Clem Quinn | Dave Monk | Tony Geraghty | Dessie O'Flaherty*
2nd Guitar:
Bass: Tony Harris | Denis Murray | Paul Ashford | Steve Travers | Peter Eades*
Sax/Clarinet: Martin Phelan | Des McAlea
Trumpet: Tommy O'Rourke | Brian McCoy | Norman Clifford*
Trombone: Murty Quinn | Pat McCarthy | Danny Ellis | Johnny Simon*
Drums: Tony Bogan | Martin Brannigan | Ray Millar | P.J. Coyne*
Organ/Piano: Jim Tyrrell | Fran O'Toole | Noel Ryan*
Manager: Tom Doherty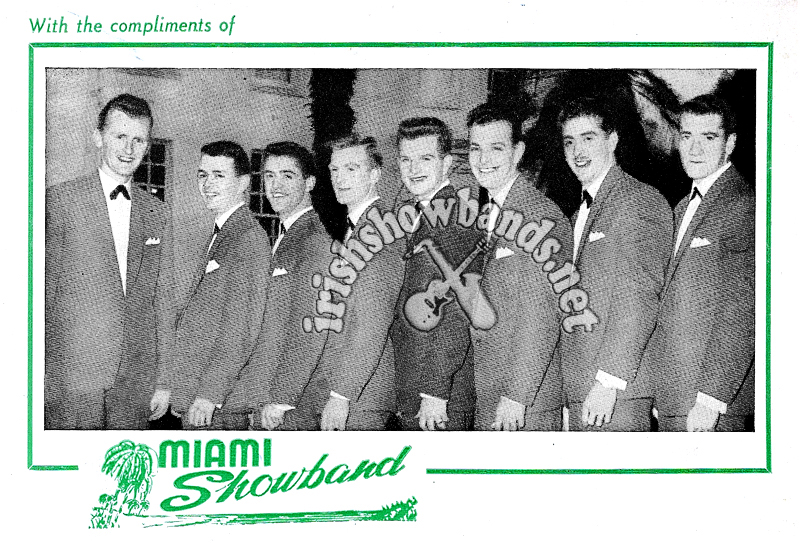 The first line-up of the Miami, from left: Joe Tyrrell, Tommy O'Rourke, Tony Harris, Jim Harte, Tony Bogan, Martin Phelan, Clem Quinn
In 1967 however, "the split" reared its ugly head and four members of The Miami handed in their notice and left to form another very successful showband, The Sands. Instead of spelling the end, this seemed only to rejuvenate The Miami and five exceptional young musicians were enlisted to fill the gaps. Fran O'Toole and Paul Ashford came in from Dublin's top beat-group, "The Chosen Few", trombonist Pat McCarthy joined from Arklow's Columbia Showband, Des Lee(McAlea) was signed from Cork's Arrivals Showband and a young trumpeter, Brian McCoy came from "The Secrets". The new line-up made an instant impact and Fran O'Toole was seen to be a singer/songwriter of immense talent and potential. Tony Bogan stepped down from the drum-stool and was replaced by Martin Brannigan. Danny Ellis joined when Pat McCarthy left for The Dreams. Such was the success of the "new" Miami that after a couple of years, management decided that they could afford to put a new band behind Dickie Rock, called simply "Dickie's Band" and promote The Miami as a young, vibrant pop-band led by Fran O'Toole.
Unfortunately for Irish musicians, dancers and fans of The Miami, a small group of loyalist terrorists had other ideas and The Miami Showband met a bloody end at their hands on a roadside near Newry in July 1975. Two terrorists were killed by their own bomb as they attempted to plant it in the back of the band's bus. The remaining members of the UVF group then turned their guns on the innocent musicians. Stephen Travers was left for dead and Des Lee, though injured, escaped across fields. Drummer Ray Miller was not travelling in the bus having gone to visit his parents in Armagh after the dance. Two members of the UDR were each jailed for 35 years for their part in the murders.
Today, Dickie Rock continues to perform and his son Brian played the part of his father in the musical "Dancehall Queues & Hucklebuck Shoes". Des Lee has settled in South Africa and both he and Stephen Travers have recovered from their injuries and are still involved in music.
All text is strictly copyright of Irish Bands Archive - it is not to be copied without permission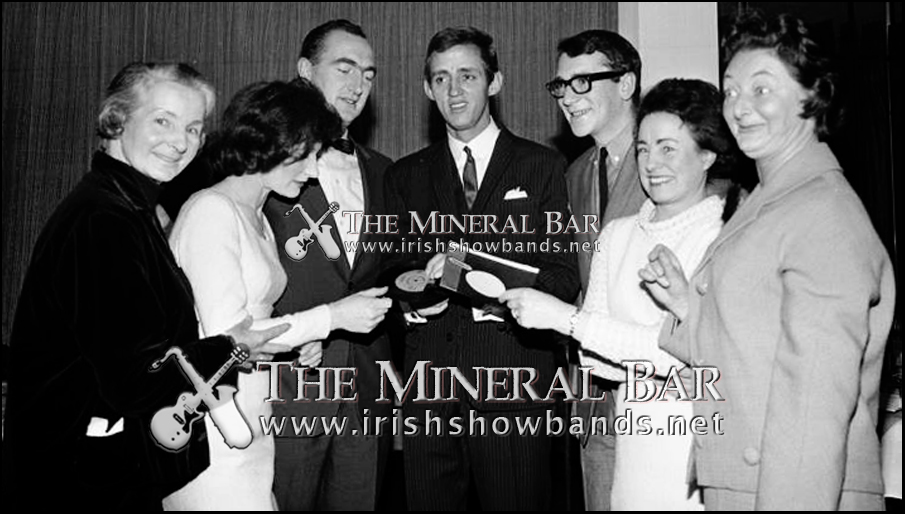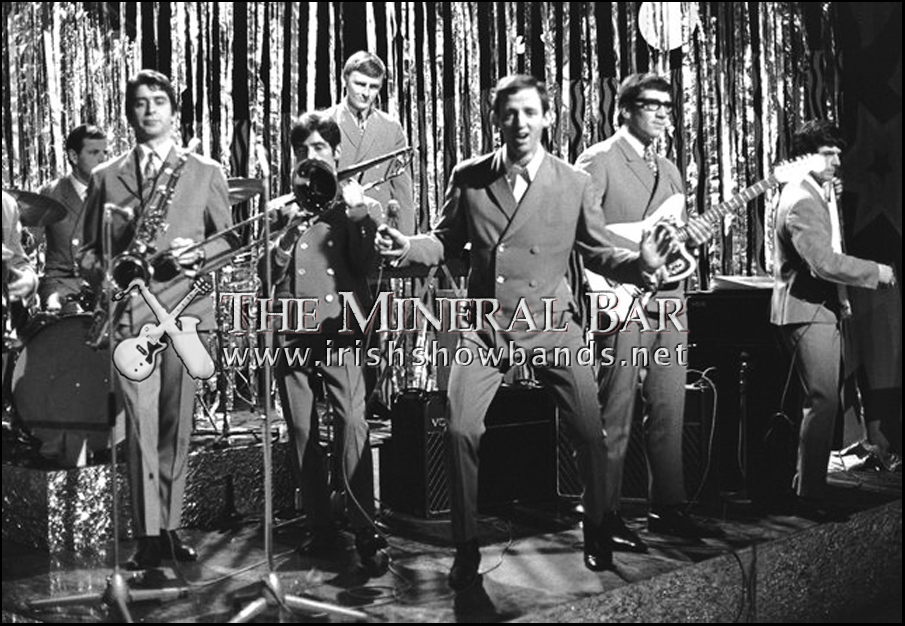 LISTEN TO DICKIE AND THE MIAMI >>>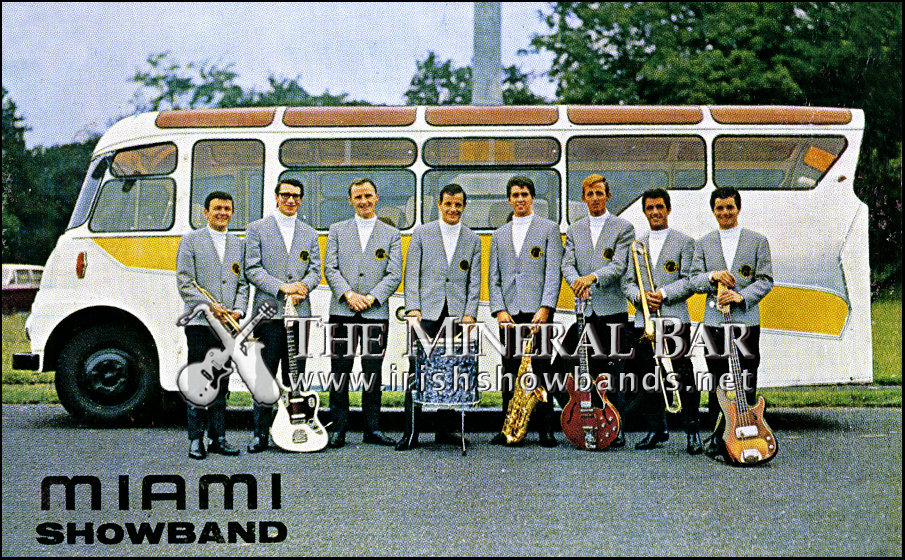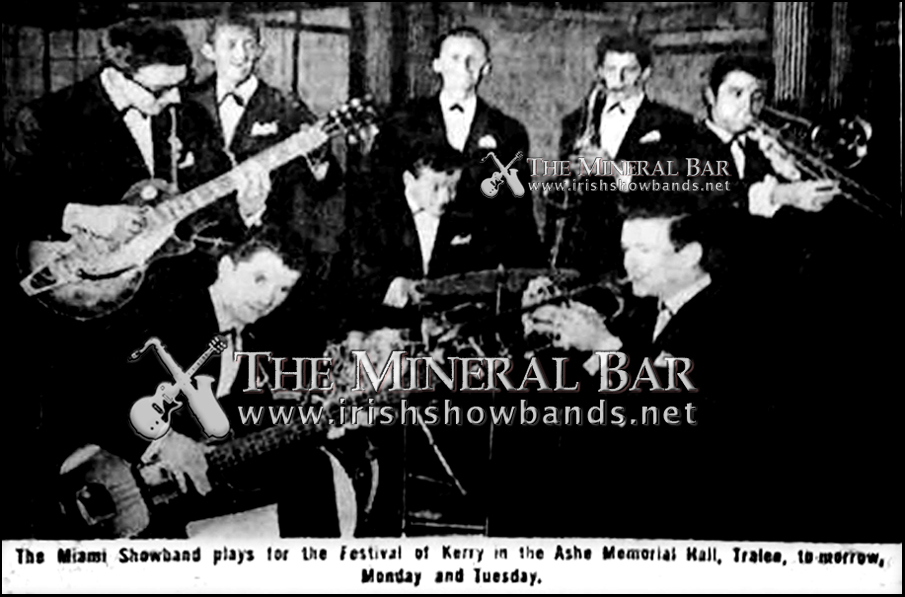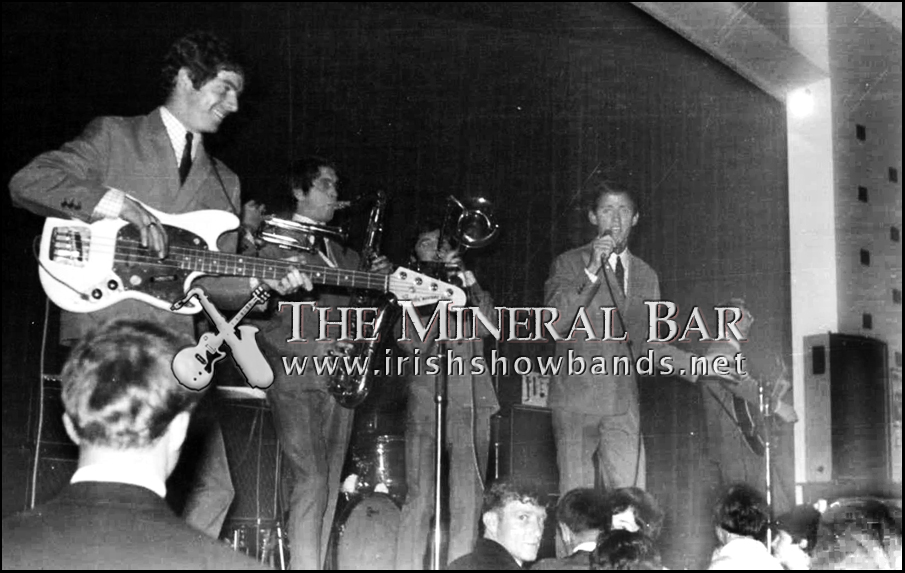 DISCOGRAPHY
Singles (7" vinyl)

1963:
There's Always Me / Boys (Picadilly 7N.35154)
1964:
I'm Yours / Please Don't Drag That String Around (Picadilly 7N.36185)
From The Candy Store On The Corner / Twenty Flight Rock (Pye 7N.35202)
1965:
Just for Old Times' Sake / Me Not You (Pye 7N.15729)
Round and Around / Shake A Little Baby (Pye 7N.15750)
Every Step of the Way / Rock n' Roll Music (Pye 7N.15855)
I Left My Heart in San Francisco / One by One (Pye 7N.15891)
Wishing It Was You / Georgie Porgie (Pye 7N.15977)
1966:
Buck's Polka / O Solo Mio (Pye 7N.17006)
One Kiss For Old Time's Sake / Someone Told Me (Pye 7N.17028)
Come Back To Stay / Can't Make Up My Mind (Pye 7N.17063)
Darling I Love You / Suspicion (Pye 7N.17206)
1967:
When You Cry / To Whom It Concerns (Pye 7N.17253)
There Goes My Everything / Make Believe (Pye 7N.17295)
Baby I'm Your Man / Mairzy Doats And Dozy Doats (Pye 7N.17316)
1968:
Simon Says / Someone Else Is Taking My Place (Pye 7N.17527)
Christmas Time and You / The Little Boy That Santa Claus Forgot (United Artists UP2256)
1969:
Goody Goody Gumdrops / Then I'll Count Again (Target 7N.17790)
Uncle Tristian's Moonship / The Wanderer (Target 7N.17806)
Jack and Jill / Rectify (Target 7N.17836)
Emily / Waterfall (United Artists Records UP3507)
1970:
Burning Bridges / Run To The Clown (Pye 7N.45014)
When My Train Comes In / Day by Day (Pye 7N.17966)
1971:
My Heart Keeps Telling Me / We Did It Together (Pye 7N.45062)
Cathedral In The Pines / Go (Pye 7N.60005)
Shake A Hand / Pledge of Love (Pye 7N.60007)
1972:
Loci Porti / Writing On The Wall (Pye 7N.60019)
Lollipops, Lipstick And Lace / When You Cry (Pye 7N.60024)
Lot 109 / Teardrop on Teardrop (Pye 7N.45137)
1973:
Captain Zero / Bye Bye (Pye 7N.60025)
That's A Woman / Is Anybody Goin' To San Antone? (Solo 113)
1974:
There Won't Be Anymore / It Never Rains In Southern California (Emerald MD 1177)
Clap Your Hands, Stomp Your Feet / Drift Away (Emerald MD 1179)
1975:
Love Is - Tell Me Again (Mint CHEW 1)
1976:
Hold On To Love / Angel of Love (Mint CHEW 14)
1977:
Out There Singing / Can't You Understand (Mint CHEW 17)
Don't Put the Boy Down / That's The Way (Mint CHEW 22)
1978:
I Like It Like That / My Life Is Rock n' Roll (Mint CHEW 23)
Too Much Is Going On / Miami Medley (Mint CHEW 28)

Extended Play (7" vinyl)

1972: Till / Just For Old Times Sake / Georgie Porgie / The Candy Store / The Candy Store (Pye PMM.601)

Albums (12" vinyl)

1967:
The Miami All-Stars (Marble Arch MAL 700)
Ten Of The Best (Marble Arch MAL 750)
1970:
The Wind Will Change Tomorrow (Pye Golden Guinea GGL 0452)
1972:
Dickie Rock & The Miami Showband (Hallmark HMA 233)
1973:
Miami Country (Emerald GES 1126)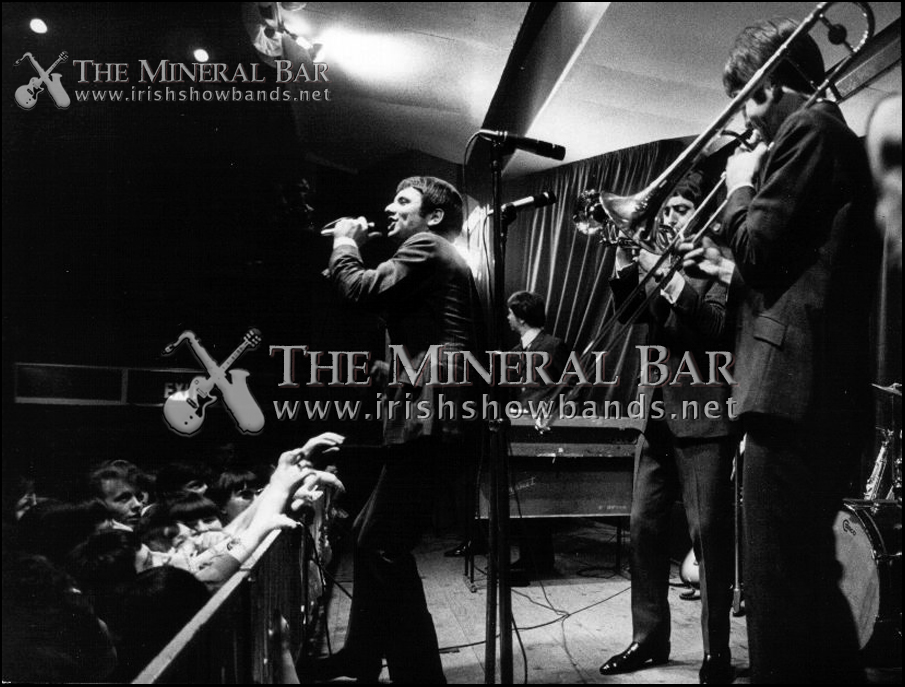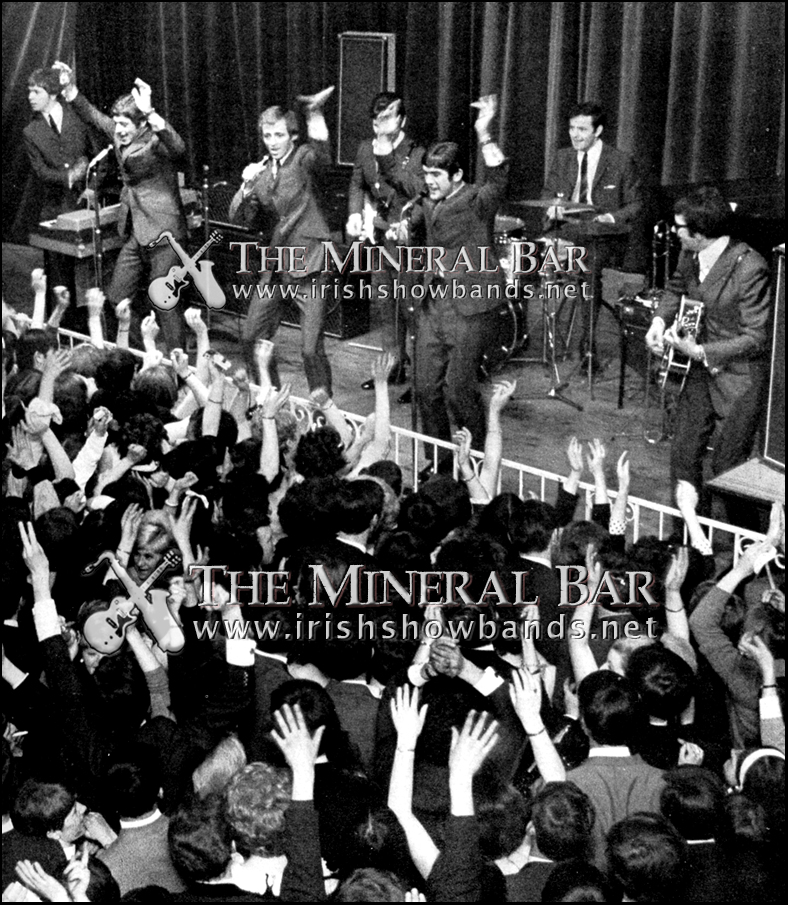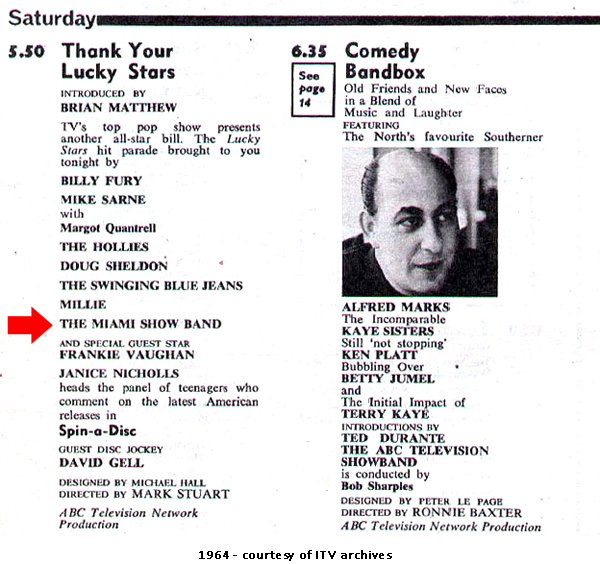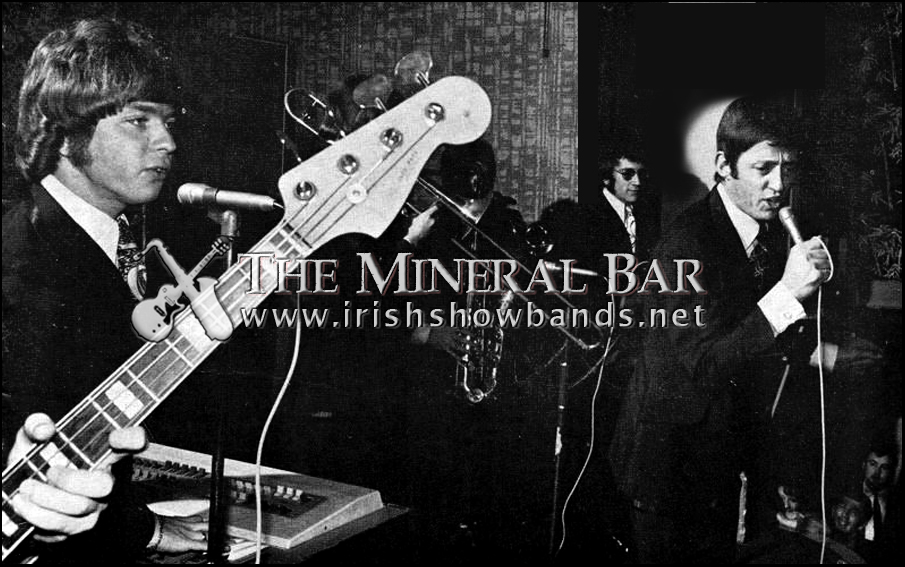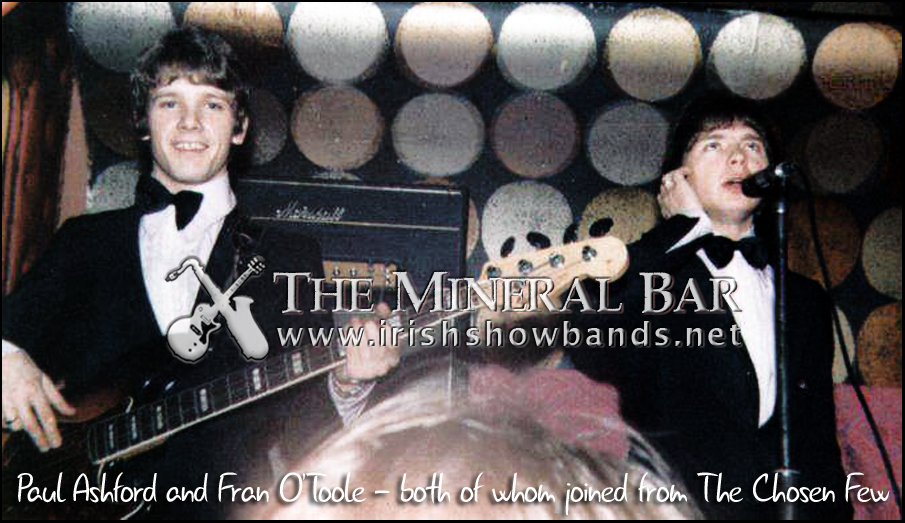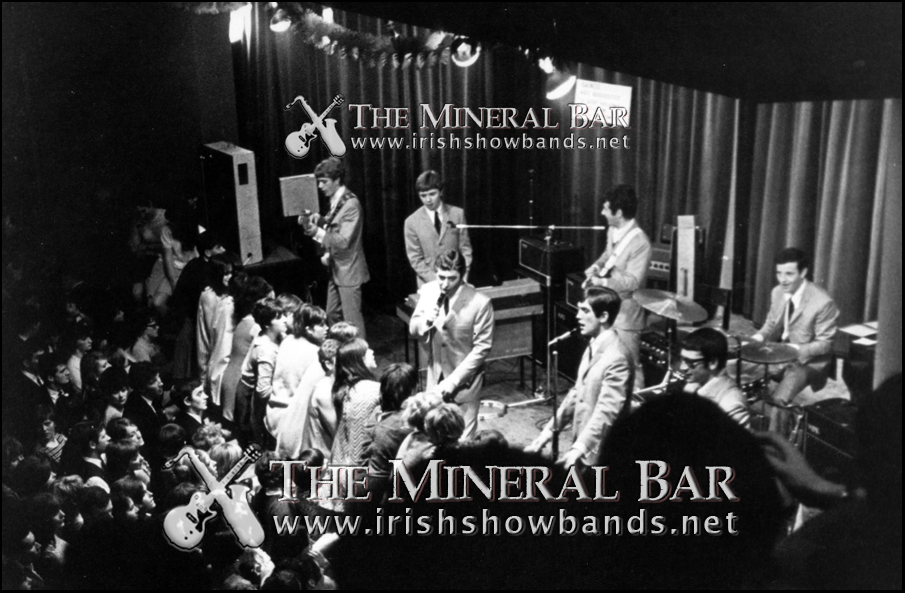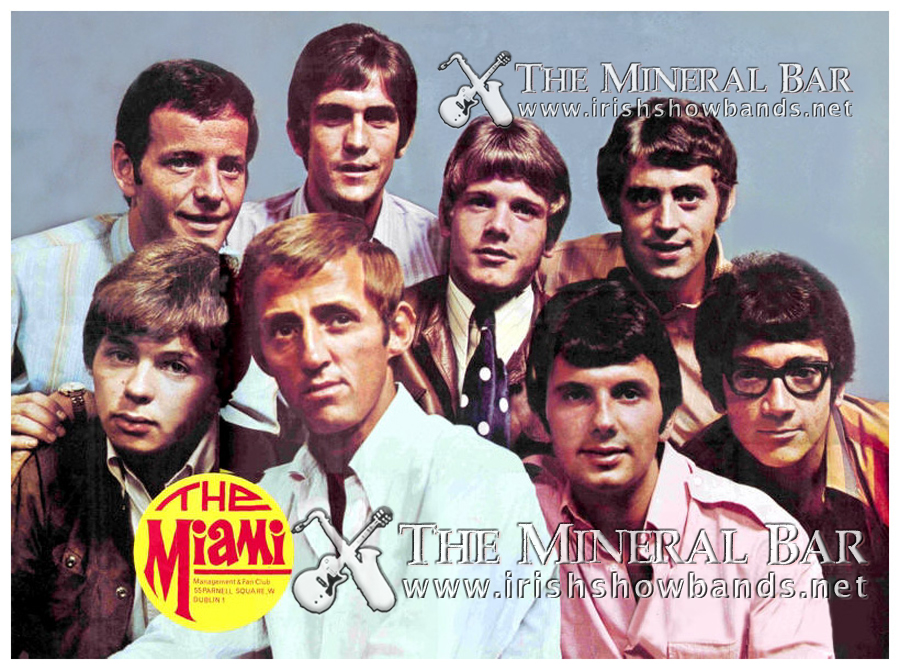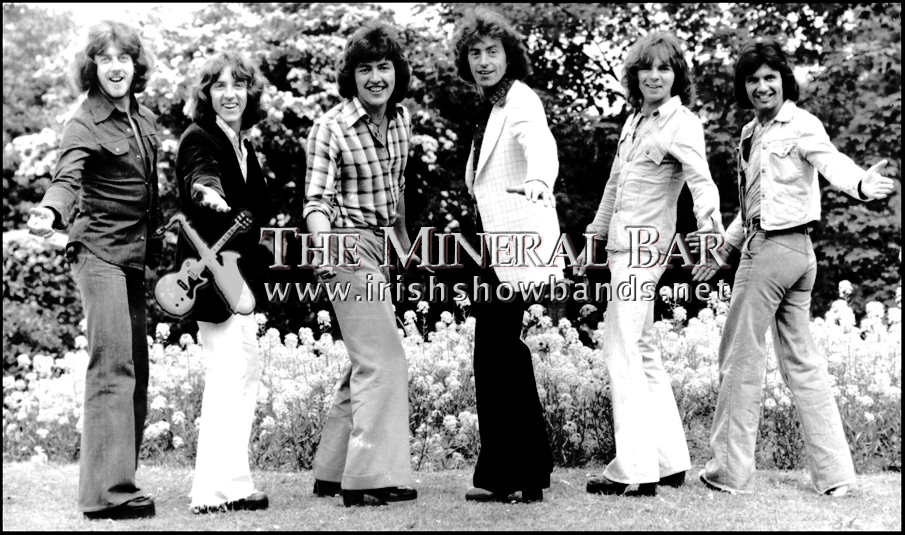 The ill-fated line-up who played in Banbridge on the night of the UVF murders. From left: Stephen Travers, Tony Geraghty, Ray Millar, Brian McCoy, Fran O'Toole and Des Lee.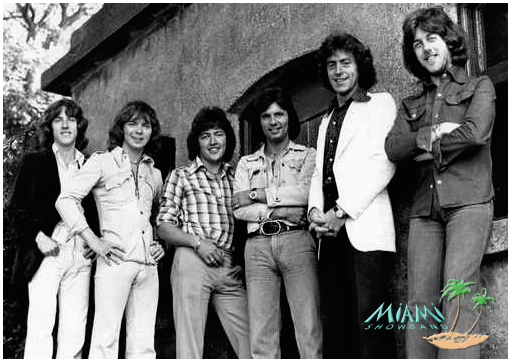 Tony Geraghty, Fran O'Toole, Ray Millar, Des Lee, Brian McCoy, Steve Travers

Gateway | Showbands Index | Beat-Groups Index | Ceili bands | Contact IBA
Band photos, cuttings, posters, adverts, line-ups, etc. to be added to the online archive are always welcome and appreciated. If you have anything to contribute, please contact us.
© FBK | 2001-2020