If you would like to support this archive by sponsoring a page for 12 months, please email irishbands archive AT gmail.com
The Story of The Regal Showband
Bantry, Cork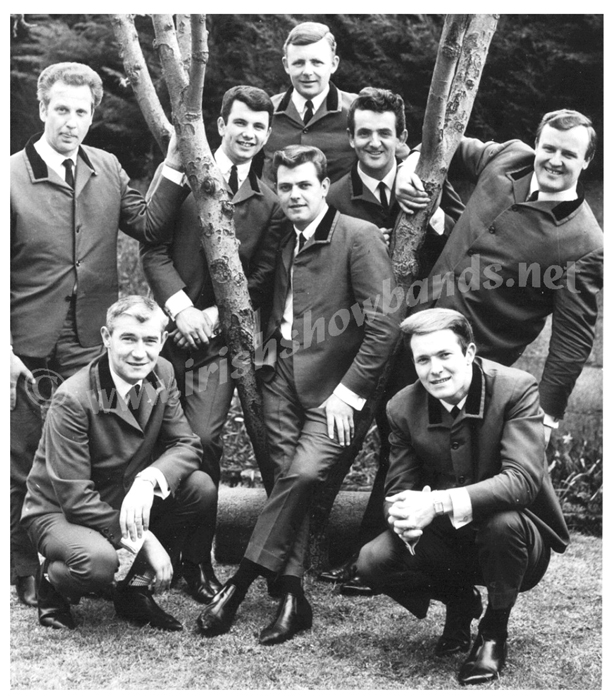 Front: Kevin Lynch, Declan Ryan, Mick Aherne. Back: Benno Haussman, Des McAlea, John Minehane, Gordon Hanly, Paddy O'Sullivan
PERSONNEL THROUGH THE YEARS
Lead Vocals: Declan Ryan, Jimmy Cotter, Bobby Hendrick, Barry Hendrick, George Gibson (McFadden?
Lead Guitar: Mick Aherne, Brendan O'Leary
Bass: Paddy Sullivan
Sax/Clarinet: John Minehane, Len McCarthy, Theo Cahill, Kevin Lynch, Des McAlea
Trumpet: Gordon Hanly
Drums: Benno Haussmann, Maurice Byrne
Organ/Piano: Kevin Lynch
Manager: Paddy Kennedy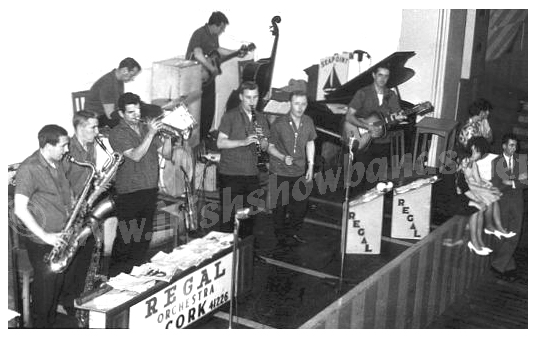 When Bantry musician John Minehane bought his first saxophone from Duffy's Circus for £25 in 1950, the story of the Regal Showband began. Together with the O'Sullivan brothers, Paddy who played button and piano accordion and Murt who played chromatic accordion, pianist Donal O'Donovan, trumpeter Seán O'Leary and drummer Seán Clifford, the lads began playing for dancers in and around their County Cork hometown and soon made a name for themselves on the dancing circuit.
For a while they became The Regal Orchestra, augmenting the band with British and German musicians such as Len Ashton and Walter Rittmeir, and playing big-band arrangements in the style of Glenn Miller. For strict-tempo dancing they would pack more than 1,000 people into Cork venues such as The Arcadia.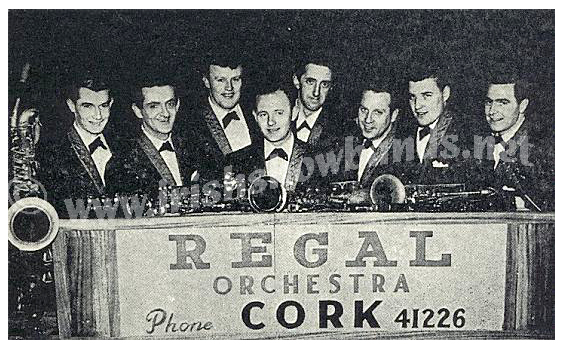 However, in the late 1950s, and now with musicians like Len McCarthy and Kevin Lynch on board, they took a long look at the Irish dancing scene and took the big step of becoming a professional showband. Some of the lads decided to hold on to the day-job and left the band. Skibbereen trumpeter Gordon Hanly came in as arranger. Drummer Benno Hausmann joined from Maurice Mulcahy's band, Vocalist Michael Noonan joined and the Regal Showband took to the highways and bye-ways of Ireland to play in dance-halls and marquees from Culdaff to Dingle.
There were quite a few changes in personnel in the early days. Musicians such as Jack Brierly, and Marco Petrassi went through the ranks. Mick Aherne came in as guitarist and vocalist Jimmy Cotter replaced his cousin Michael Noonan. With their tailor-made mohair suits with black velvet collars, the Regal were known for their smart appearance as well as their professional musical programme.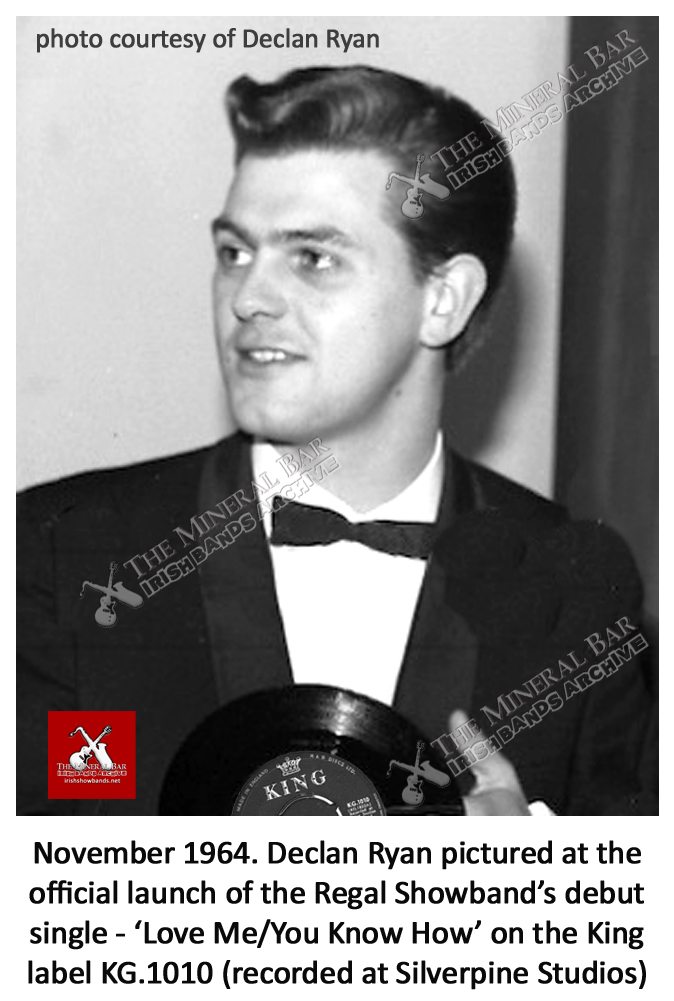 LISTEN TO THE REGAL SHOWBAND >>>
However, it wasn't until a young, handsome Cork singer named Declan Ryan joined the band in the early 1960s that the band made their big breakthrough. In 1965, their record, "I Need You / Hurting Inside" on the Decca label, topped the Irish singles charts and they were packing in huge crowds wherever they played. They appeared on RTE's "Showband Show" and numerous live radio shows.
Around this time they were joined by a young Belfast saxophonist named Des McAlea, who later left to join the Miami Showband. Des (stage name Des Lee) was an injured survivor when three members of the Miami were murdered in 1975. Drummer Benno was killed tragically in a boating incident in Cork harbour in the 1980s. Kevin Lynch and Gordon Hanly have also passed away in the past decade.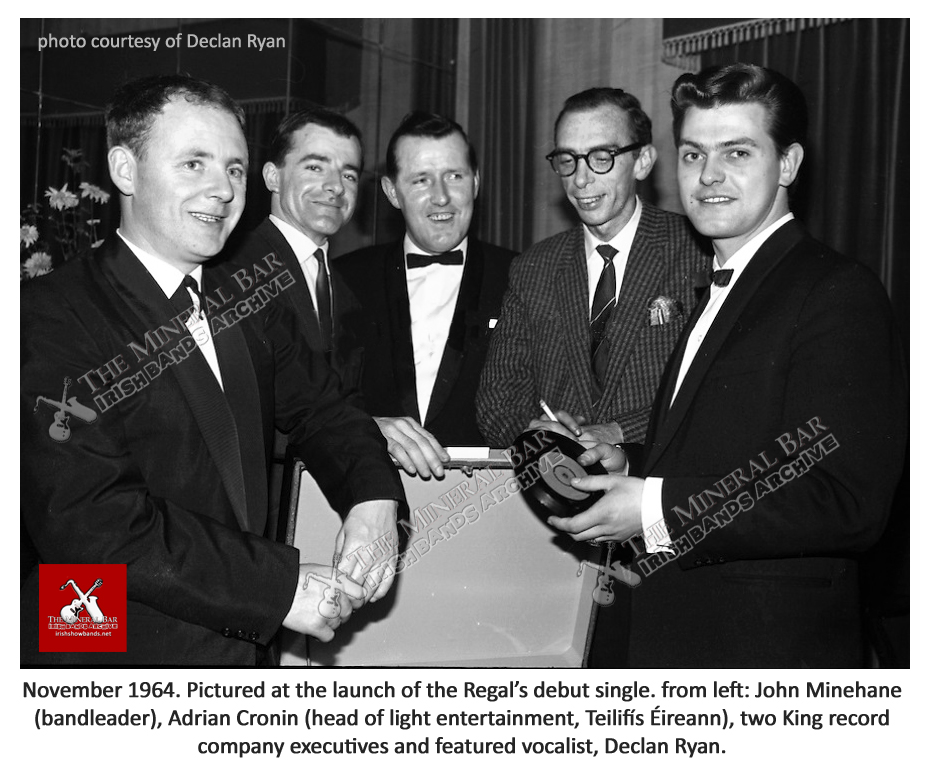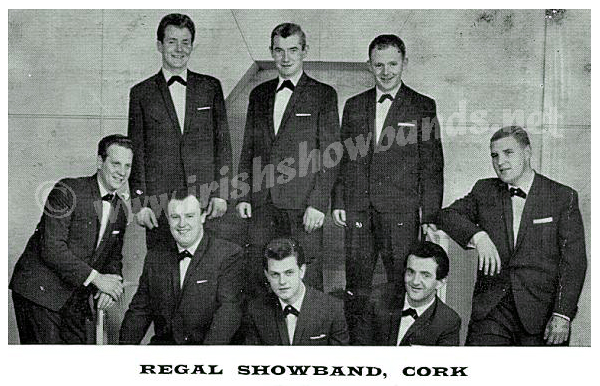 Though they continued for a few years after four of the band left to form The Arrivals in 1967, the Regal Showband's best years were from 1960 to 1966. Some new musicians joined to replace those who had left and at one point, they became The Treetops, fronted by Pat Lynch. Along with The Dixies, they ensured a strong presence for Cork showbands during those happy dancing days.
All text is strictly copyright of Irish Bands Archive - it is not to be copied without permission
Footnote: In 1990, Benno Haussman was drowned while working as a fisheries officer off the coast of Cork. (Scroll down for story)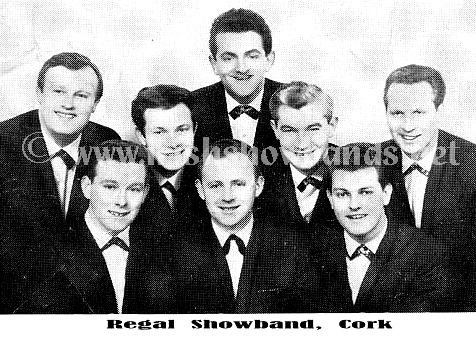 REGAL SHOWBAND SONG WORDS HERE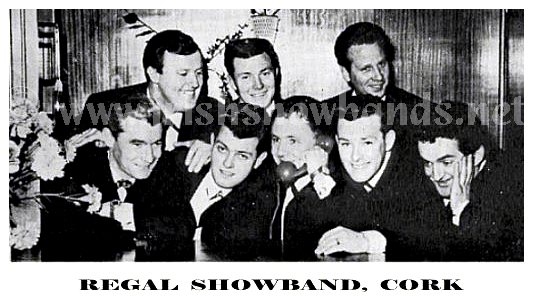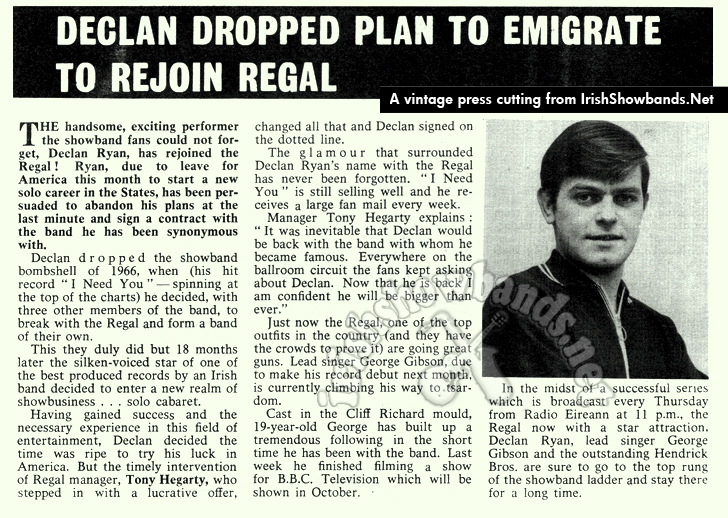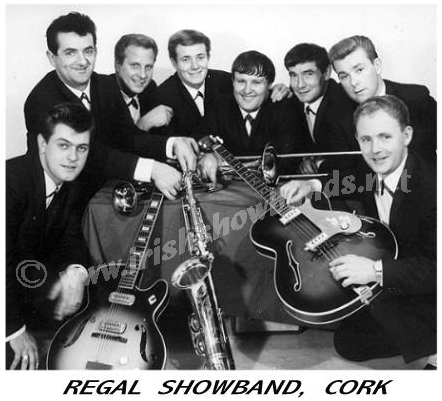 DISCOGRAPHY
1964: Love Me / You Know Her (King KG 1010)
1965: I Need You / Hurtin' Inside (Decca F12202, also Emerald MD 1014)
1966: A True, True Love / I Hurt Too Much To Die (Emerald MD 1031)
1967: The Blarney Stone / I'm Ashamed of You (Pye 7N.17296)
1969:
Lindy, Lindy / When Two Worlds Collide (Honey COMB 03)
Hello There Santa / Everybody Sing and Dance (Honey COMB 13)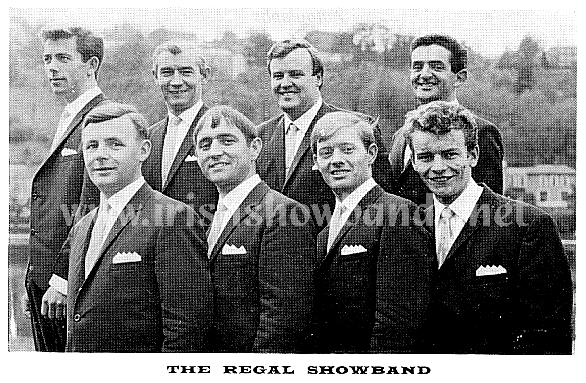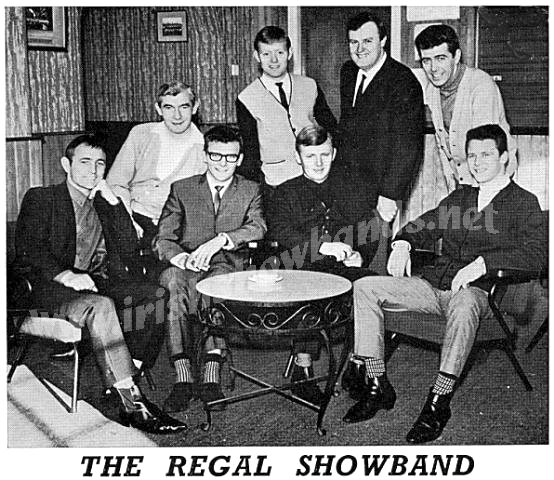 CORK SEA TRAGEDY / JULY 1990
At about 9:30 on Saturday morning a fishery patrol boat capsized off Ballycotton, Co.Cork. Four of the five crew members drowned while the fifth was taken to hospital where he is said to be comfortable. The fifteen-foot inflatable craft was being used to search for illegal fishing nets and the sea was quite choppy at the time. The alarm was raised at 11:00 a.m. when a local fishing vessel found a body in the sea. Lifeboats from Ballycotton and Youghal started a search of the area and the survivor, Michael Fanning of Fermoy, was picked up next. He was able to tell his rescuers that he was one of five who were thrown into the sea when the engine of their dinghy stopped. Three more bodies were found a short time later. Those who died were named as Barry O'Driscoll (Bandon), Barra O Longaigh (Douglas), Benno Haussmann (Bishopstown) and Dominic Meehan (Gurranabraher). The Government has ordered an inquiry into the drownings.
Local lifeboat men expressed surprise that none of the five crew was wearing a life-jacket although all did have the less effective life preservers. They also said that the boat was not suitable for the conditions and that it was too small for a crew of five. (Cork Examiner, 9 July 1990)
Gateway | Showbands Index | Beat-Groups Index | Ceili bands | Contact IBA
Irish Bands Archive is a work in progress. Band photos, cuttings, posters, adverts, line-ups, etc. to be added to the online archive are always welcome and appreciated. If you have anything to contribute, please contact us by email.
© francis beirne kennedy | 2001-2022