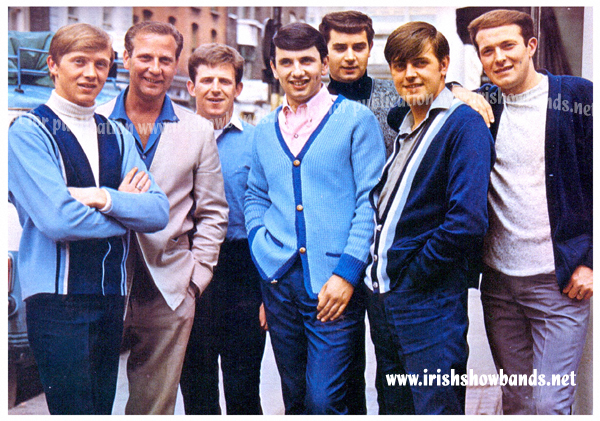 From left: Will, Benno, Tony, Des, Billy, Declan, Mick
The Arrivals Showband were launched in a blaze of publicity in 1965 when four members of Cork's popular Regal Showband decided to leave and form a new band. Vocalist Declan Ryan, who had just had a big hit with the romantic ballad "I Need You", was joined by drummer Benno Hausmann, guitarist Mick Aherne and saxophonist Des Lee (McAlea) in the new venture. Into the new band came Aherne's younger brother Will on bass guitar, trumpeter Tony Neenan and Tralee's Billy Curtin from Athenry's Swingtime Aces (tenor and alto sax / clarinet).
Mort Lucey was the first manager, then Len Robinson from Associated Ballrooms and later Chris St. Leger and Matt Nodwell managed the band. A few months after their launch the band released their first single, another romantic ballad called "My Wishful Dreaming", specially written for Declan Ryan by Roscommon songwriter Gay McKeown who also wrote "Don't Lose Your Hucklebuck Shoes" for Brendan Bowyer and the Royal Showband.
LISTEN TO THE ARRIVALS >>>
However, though a big marketing campaign was implemented, the record failed to make a major impact and it wasn't long until some members became disillusioned and changes in the line-up were inevitable. Des Lee was "poached" by the new Miami Showband and Declan Ryan left to be replaced by Cork singer Kevin Kane from The Vards. Nicky Kirwan took over the drum-stool from Benno Hausmann.
Two singles featuring Kevin Kane followed; "Thanks To Love" in 1967 (a Spanish hit translated into English) and "Sadie The Cleaning Lady" in 1968. When Kevin left the band in 1969, he was replaced briefly by Dubliner Jimmy Fanning of The Strangers and soon after, Will Ahern took over lead vocals and released two singles, "Sweet Caroline" and "Scooby Doo". The Arrivals appeared on RTE's "Like Now" in 1968 and toured the USA and Canada in 1966. The best venues for the band were Cork, Kerry, Galway and Northern Ireland.
The band finished up in 1970 and the members took up various jobs. However, after about twelve months they re-formed and ironically, could get all the work they needed. They were not prepared to take the chance again however on going full time but continued successfully on a semi-pro basis for a number of years.
Benno Hausmann died tragically in a boating incident in Cork harbour in the 1980s. Declan Ryan and Will Ahern continue to entertain in the Cork area.
all text is copyright and should not be copied or published anywhere without written permission.
Vocals: Declan Ryan, Kevin Kane
Lead Guitar: Mick Aherne
2nd Guitar:
Bass: Willie Aherne
Trumpet: Tony Neenan
Sax/Clarinet: Billy Curtin, Des McAlea
Trombone:
Drums: Benno Hausmann, Nicky Kirwan
Piano/Organ:
Manager:
Discography:

1966 - My Wishful Dreaming / Beyond The Shadow - Emerald 45-MD 1050
1967 - Thanks To Love / Fool Number One - Tribune TRS109
1968 - Sadie (The Cleaning Lady) / Ten Guitars - Pye 7N 17632
1969 - Sweet Caroline / He Don't Deserve You Anymore - Honey COMB14
1969 - She's About A Mover / Skooby-Doo - Target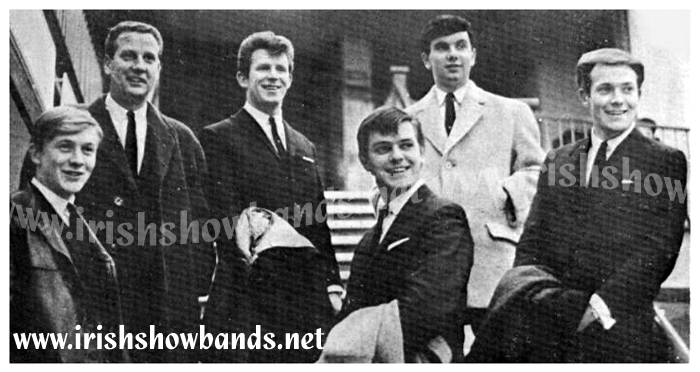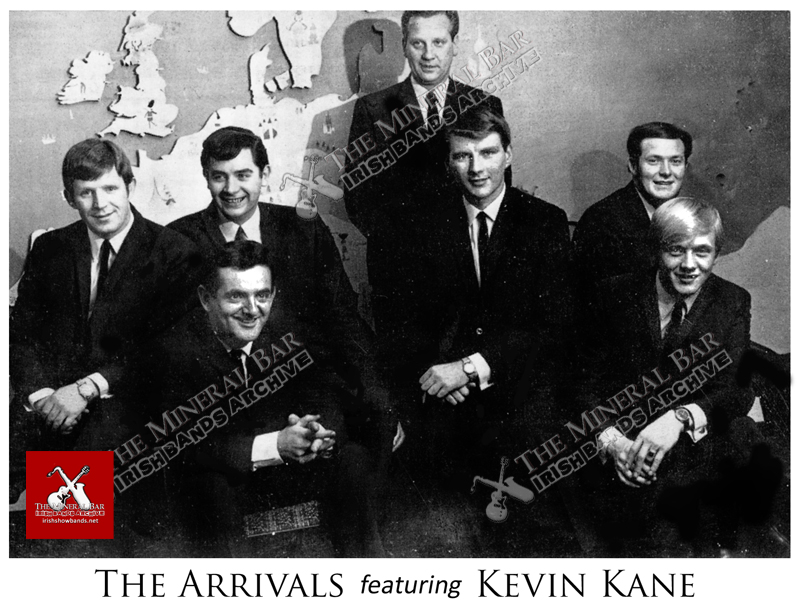 Kevin Kane (O'Sullivan) replaced Declan Ryan as front man in 1967. A qualified solicitor, he came from popular semi-pro band The Vards. in later years he regretted going on the professional circuit.
Gateway | Showbands Index | Beat-Groups Index | Ceili bands | Submit a Photo
Band photos, cuttings, posters, adverts, line-ups, etc. to be added to the online archive are always welcome and appreciated. If you have anything to contribute, please contact us.
© FBK | 2001-2020