Ireland in the Fixties ~ Fashion
.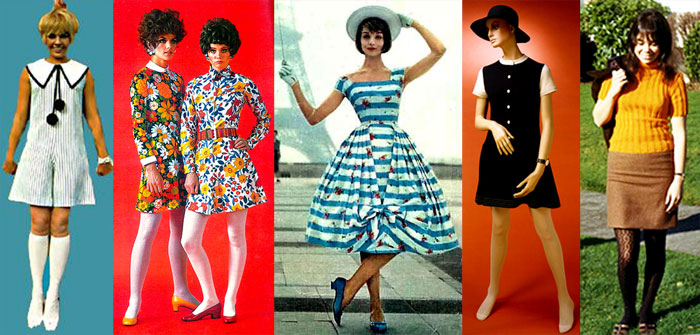 .
Bright colours, hoops, polka-dots and imaginative design were the hallmarks of ladies' fashion in the late-'50s and early '60s. There wasn't much disposable income and of course budget chain-stores had not arrived in Ireland but yet, girls took a great pride in their appearance and dressed very well, especially when going to a dance.
The trend of making clothes at home in the 40's, carried on into the 1950's. Material became more available and the style was very much domineered by the Hollywood stars. Actresses and singers that made an impact on women and their fashion included: Audrey Hepburn, Grace Kelly, Doris Day and Alma Cogan.
Two styles were more prominent than others – the chic look and the girl-next door style. The chic look consisted of a pencil skirt, worn just below the knee and very tight. This would be worn with a blouse with a stick up collar and a wide belt to accentuate the waist. Matching accessories (gloves, shoes and handbag) were a must for any fashion conscious female. Their hair was soft and curly and it wasn't out of the ordinary to go to bed with curlers in their hair. In contrast, the second style was a more casual affair. Skirts and dresses had layers of material -silks, satins and cotton, with a stiff net petticoat underneath. Narrow legged trousers, tapered to the ankle were very popular also. Scarves were worn around the neck and ankle socks were very popular. Their hair would often be tied up in a ponytail.
.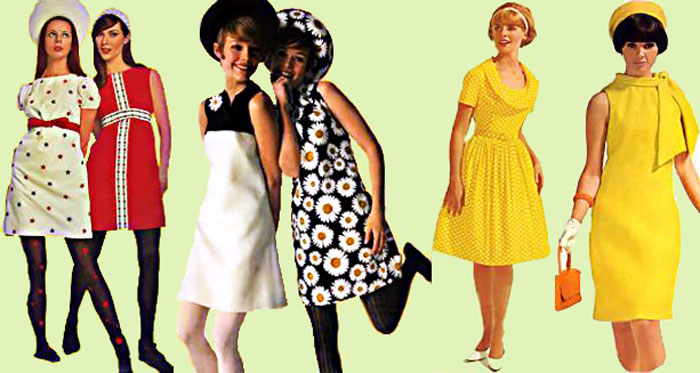 .
Many girls made their own dresses and frocks. Patterns could be bought in their local drapery shop and needlework was taught in all schools. If the right material could be sourced locally, outfits such as those illustrated here might be put together in one evening.
The pencil skirt remained into the early '60s. Pleats were introduced in skirts and these were worn with either short sleeved blouses or jumpers. But the fashion was soon to have a new style. Using models: Twiggy and Jean 'The Shrimp' Shrimpton and others, Mary Quant introduced women to a whole new world of fashion. Although it was argued at the time as to the rightful inventor, the mini-skirt will always be associated to her. Geometric patterns and psychedelic colours took over from the plain colours of the 50's. With blocks, stripes, dots of every size – the bigger and bolder, the better! Hair became much shorter with quite a blunt cut and a fringe. Peaked caps were popular too. Stockings made way for tights (or pantyhose) and vinyl knee boots completed the 'Quant' look.
In contrast to this, many women preferred the more 'lady-like' style. This was quite similar to the '50s but patterns varied from candy-stripes, gingham, polka dots and plain colours. Dresses and suits were worn with matching handbag, shoes, gloves and hat (as made famous by Jackie Kennedy).
However, there was another style that was to dominate the mid to late 60's. This was influenced by the 'Flower-power' era. Women became more adventurous with their clothes. Dungarees, jeans (made from denim) were worn with tie-dyed t-shirts. Blouses tied up at the waist were popular with 'hipster' jeans and skirts got longer. Styles such as 'the gypsy' (off the shoulder tops and skirts worn with a broderie anglaise petticoat) and sandals, completed the look. Hair was worn long and loose or plaited. Towards the late '60s, Mary Quant introduced a new fashion that was to take the industry by storm – the hot pants.
.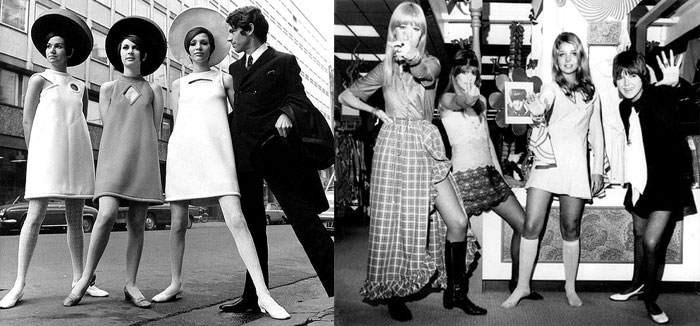 .
Simply-cut mini-dresses were popular, sometimes worn with knee-high boots. Plain pastel pinks, blues and yellows or gingham were often used to create attractive outfits.
.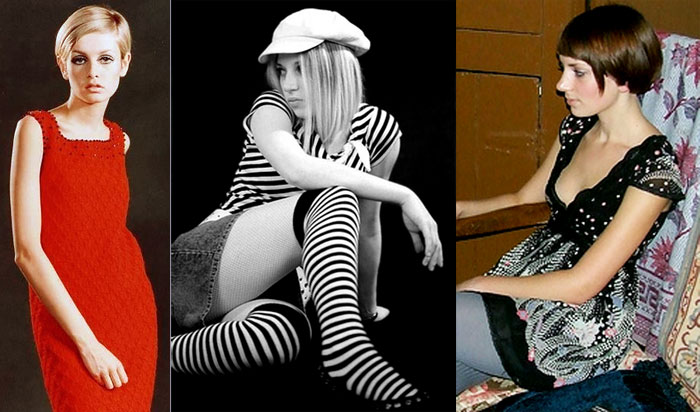 .
Girls became more adventurous in the latter half of the '60s decade. Twiggy, Jean Shrimpton and Mary Quant introduced cheesecloth, patterned tights and clingy Lycra and Irish girls followed the trends. Floppy caps and Indian smocks began to be seen on Irish streets. Even today, those fashions would stand out as being creative and individual.
.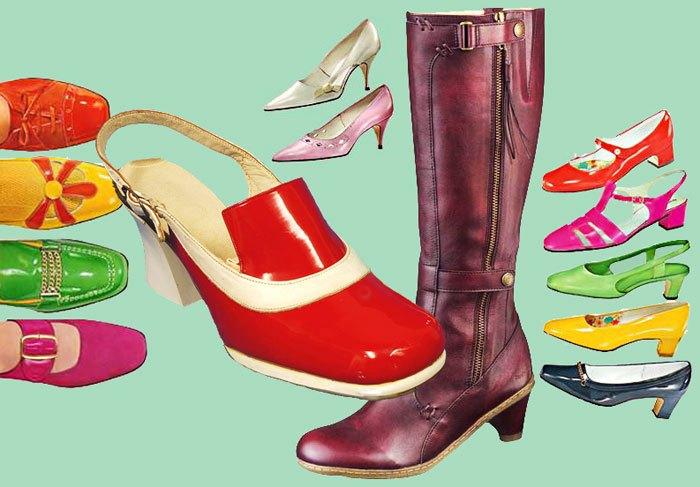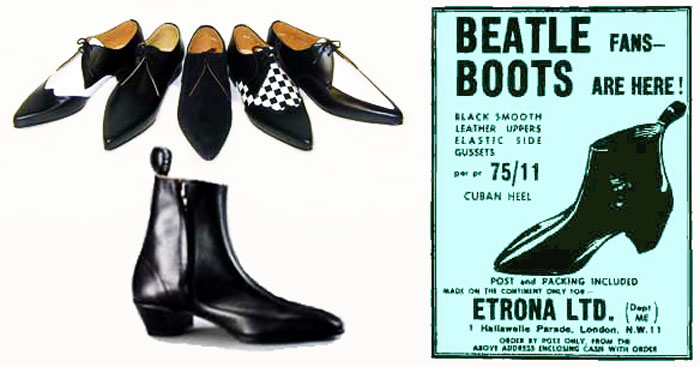 .
Women's shoes were colourful and matched with dresses and bags. Boots were often worn with short skirts. In the late '50s, pointed shoes known as winklepickers were worn by young men and Beatle boots appeared in the early '60s.
.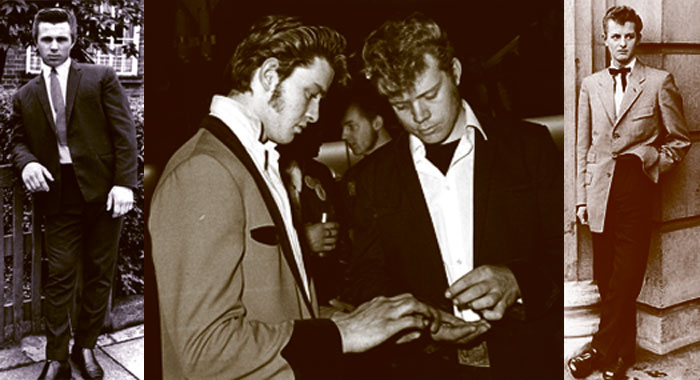 .
And let's not forget the teddy-boys! They had a very distinctive look - long, brightly coloured jackets with black velvet collars, drainpipe trousers and crepe-soled shoes. Hair slicked back with Brylcreem topped off the look. In groups, they might look intimidating but all they wanted to do was listen to Elvis on the jukebox and jive to the sounds of rock 'n' roll.
.

.
Around 1967, there was a dramatic change in popular fashions. It was the Summer of Love, Woodstock, San Francisco, peace and love. Tie & Dye, cheesecloth and floral prints became very popular, with both sexes. The hula-hoop (left) was a popular '60s fad.
.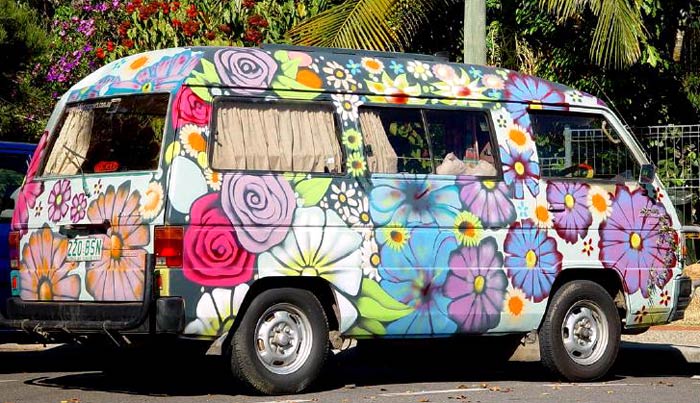 © francis k. 2008