In 1965, the floating pirate radio station Radio Caroline was flying high and Irish owner Ronan O'Rahilly decided to put a showband on the road to reflect the radio stations young, fresh image. He enlisted drummer Kevin Brady to put the new outfit together and through the Irish Federation of Musicians, auditions were arranged.
Guitarist Reg Dunne came in from The Kings Showband and he was joined by musicians from Jim Farley's Band and The Madrid Showband, Kevin Cregan (bass), Tony Coffey (piano), Harry Burroughs (tenor sax), Tony Kearns (baritone sax), Mike Burns (trumpet/flugel horn) and the tall, black former American G.I., Earl Jordan who came from The Derek Joys in Waterford. Jimmy Craig was the band manager.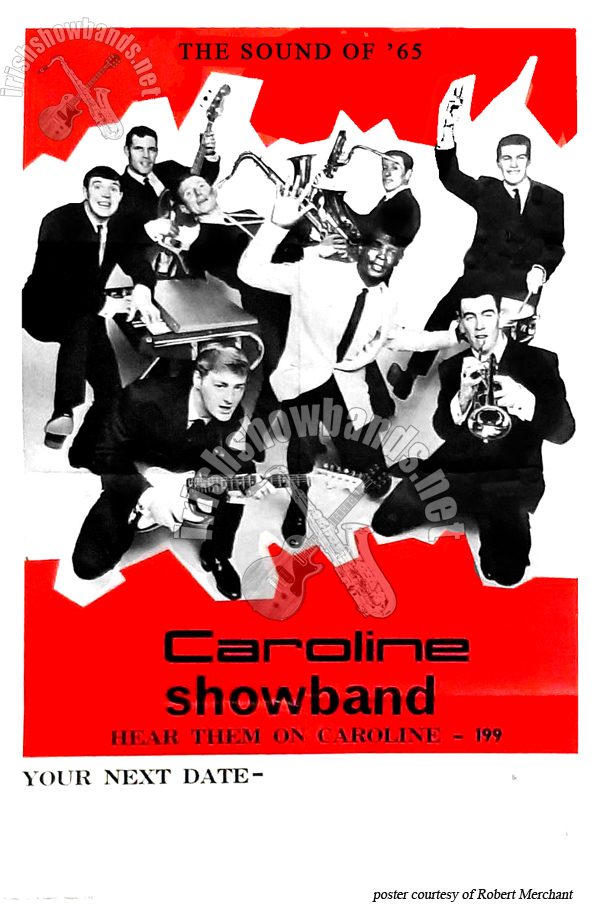 With their strong brass section and their American singer, The Caroline Showband played a lot of soul music by artists like James Brown, Otis Redding and Wilson Pickett. Their versions of the classic songs "Papa's Got A Brand New Bag" and a bluesy version of "Old Man River" literally stopped the show! Their main following was in cities such as Belfast and Dublin.
They released one single "Coco Joe" featuring Earl Jordan and recorded a demo album for radio play in Ardmore Studios in Bray. They toured Great Britain and Germany on a number of occasions and made an appearance on RTE's "Showband Show". The band moved to England before disbanding in the early '70s.