The Witnesses, Belfast
Related: Dave Glover, Northern Comets, Action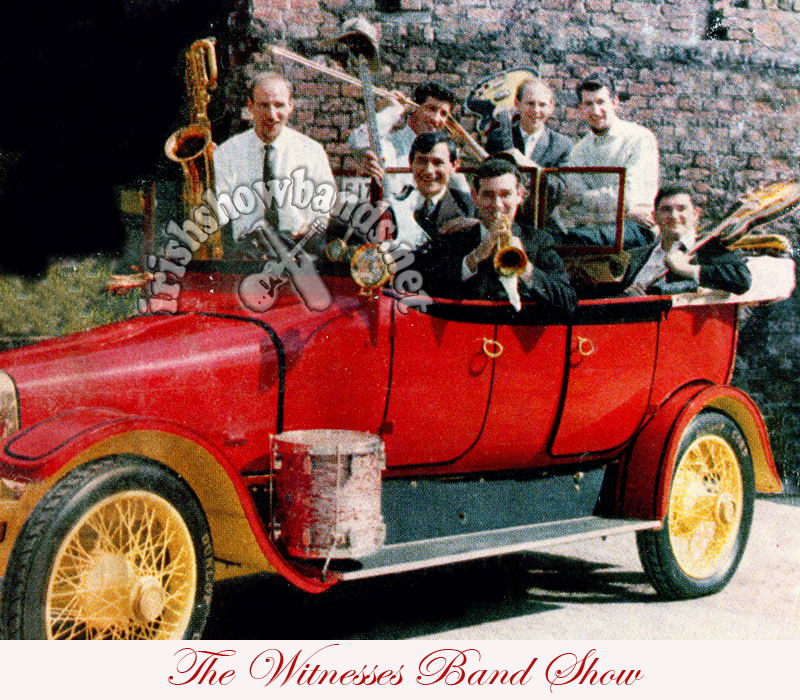 Belfast's Witnesses Showband were probably the only Irish showband to welcome Elvis Presley to their show! The King and his entourage, including his wife Priscilla attended their Christmas Show at The Paradise Island Hotel in The Bahamas in 1969, took a bow when introduced to the audience by bandleader and compere Harry "Trixie" Hamilton and later told the lads that he had enjoyed the show. He bought drinks for the band and joined them onstage, though he did not sing.
The Witnesses began when six musicians from another great Belfast band, Dave Glover's Showband, left to start a new band. Alex Burns (guitar), Harry Hamilton (bass), Gerry Rice (saxophone), Andy Wilson (trombone), Harry Mitchell (piano) and vocalist Joe Clarke formed the nucleus of the new showband and trumpeter George Mullen was recruited to complete the line-up.
Vocals: Joe 'Boots' Clarke, Tony Morelli, Colm Wilkonson­
Guitar: Alex Burns
Bass: Harry 'Trixie Hamilton
Sax/Clarinet: Gerry Rice, Jim McDermott
Trombone: Andy Wilson
Drums: Walter Maitland, Sammy Kelso, Mike Arkins, David Martin
Piano/Organ: Harry Mitchell
Manager:
Discography
1965: Take Good Care Of Her / Each Time You Cross My Mind - Emerald MD1010
1965: Nobody's Child / Two Little Orphans Emerald - MD1011
LISTEN TO THE WITNESSES >>>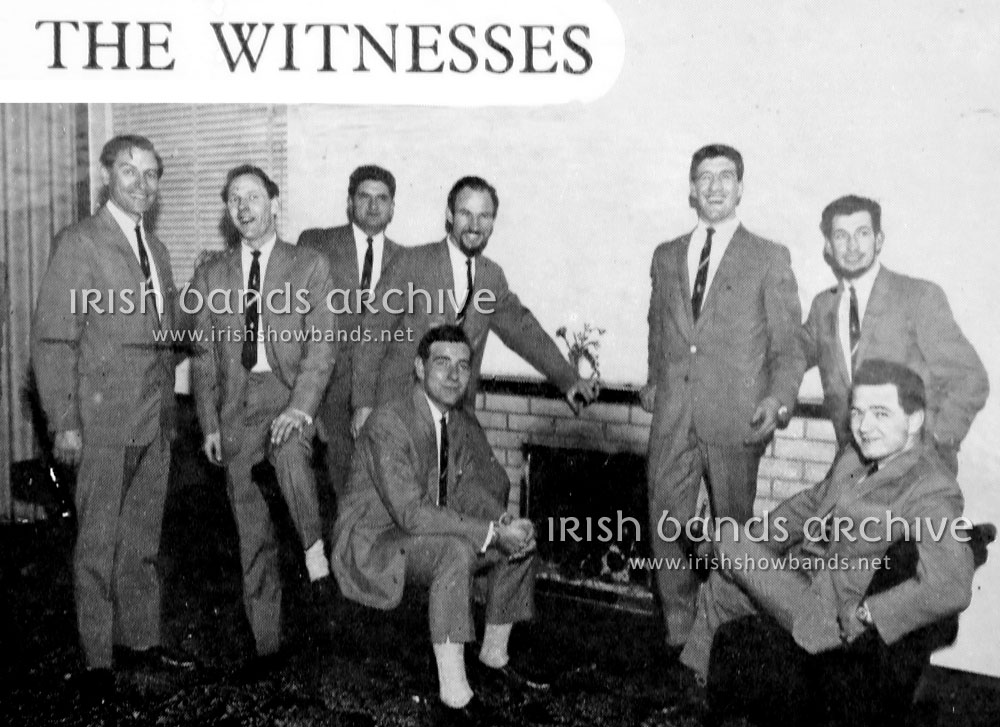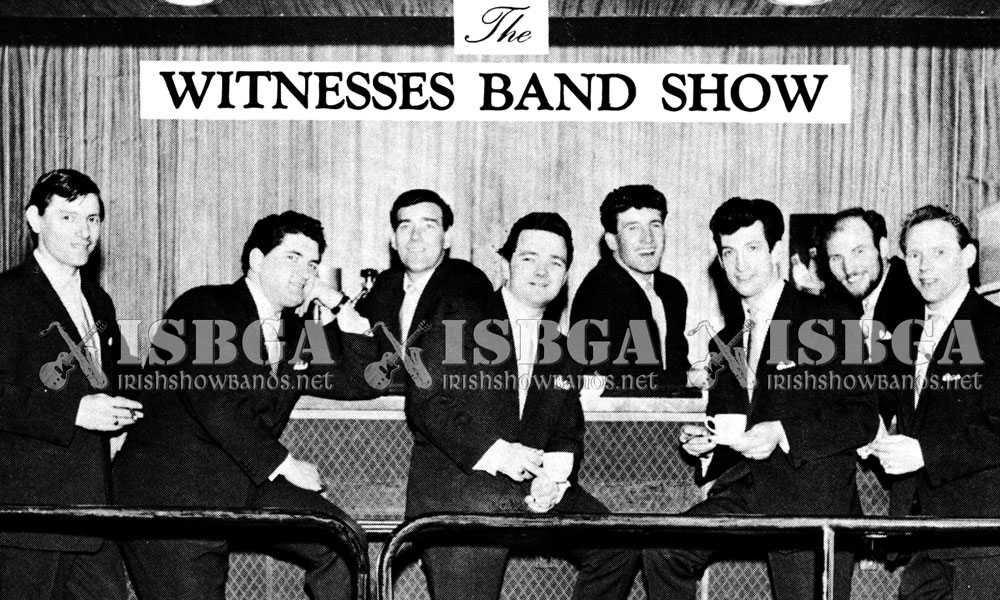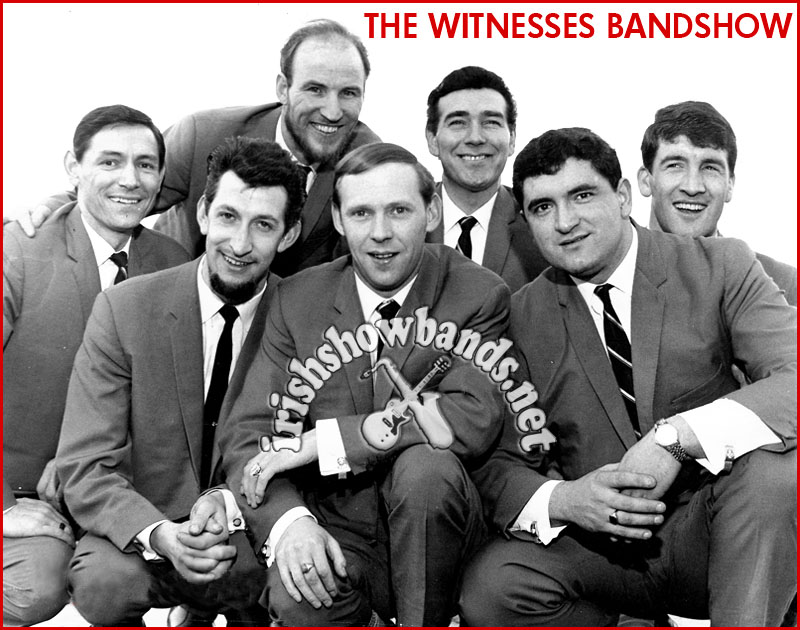 The band made a huge impact on the British club and cabaret scene and while resident at The Talk Of The North in Manchester, were supported by acts who later went on to become famous, such as Gerry Dorsey (Englebert Humperdinck) and comedian Freddie Starr. In 1964, they traveled to America for a five-week tour where they appeared in venues in New York, Chicago and San Francisco traveling a total of 14,700 miles! While in the U.S.A. they had the pleasure of meeting stars like Lionel Hampton, Gene Krupa and Sammy Davis Jnr. Mitchell later left to be replaced by Tony Morelli and in the mid-60s, Dubliner Colm Wilkinson joined as lead vocalist. Italian-born Morelli was a former choirboy who had come from the Northern Comets Showband. His father had been a member of Glenn Millar's Big Band in the USA. Colm Wilkinson has since gone on to be one of the world's biggest stars of stage-musicals having starred in shows such as "Les Miserables" and "Phantom Of The Opera".
ALL TEXT ON THIS PAGE IS STRICTLY COPYRIGHT AND SHOULD NOT BE REPRODUCED
ANYWHERE WITHOUT PERMISSION FROM THE IRISH BANDS ARCHIVE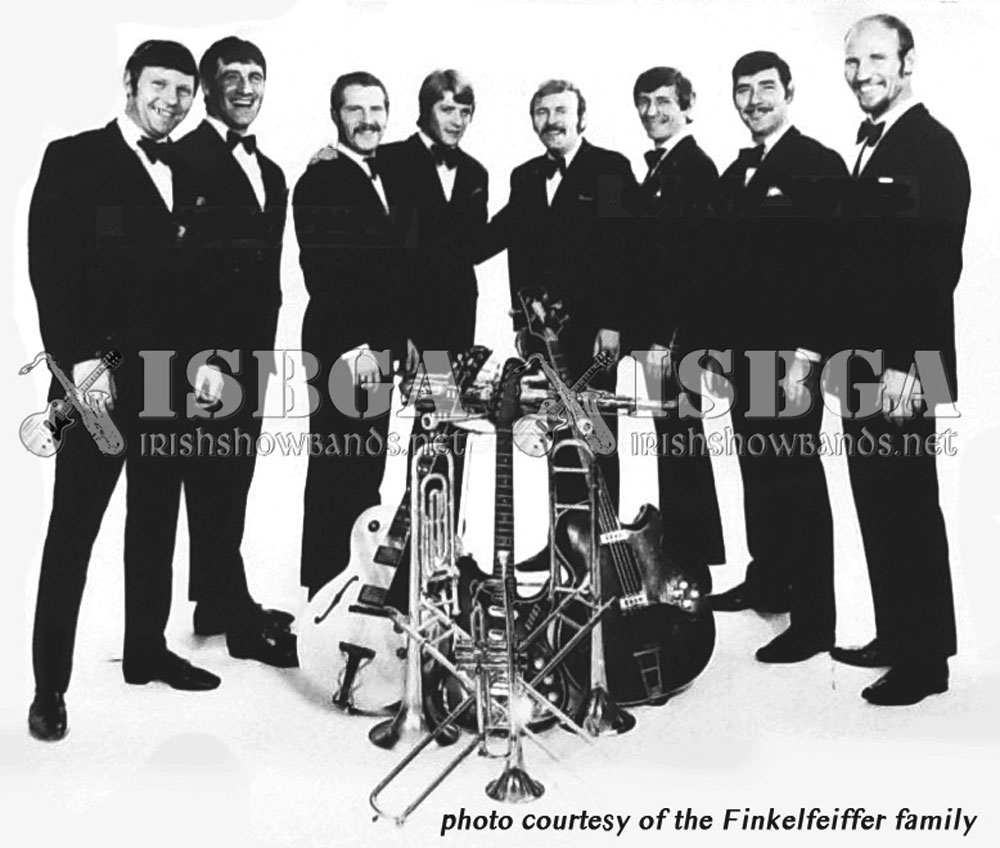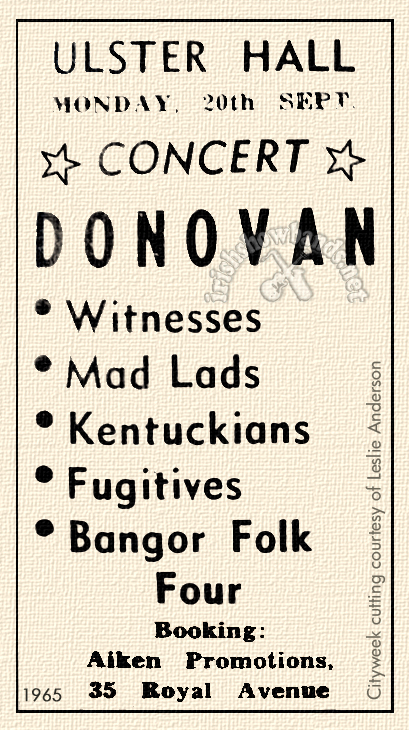 Gateway | Showbands Index | Beat-Groups Index | Ceili bands | Contact IBA
The Irish Bands Archive is an ongoing work in progress. Photos, cuttings, posters, adverts, line-ups, etc. to be added are always welcome and appreciated. If you have anything to contribute, please contact us by email.
© FBK | 2001-2021