The Red Barons Showband
Related: Glen Country, Young Stars
The Red Barons were formed in 1967 and was made up of five members from the village of Armoy in County Antrim. There were three brothers, Harry, Barney and Paul Mulholland with Malachy Laverty and his cousin Jimmy Laverty. They started by playing local venues and support for the showbands in dance-halls and marquees through out the north of Ireland. Barney Mulholland has since passed away in 1992 following a road accident.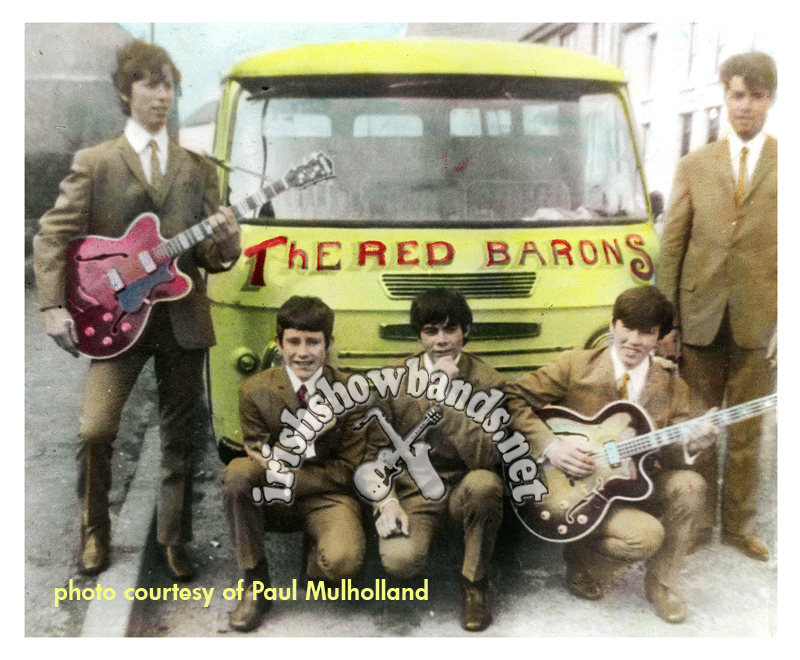 From left: Harry Mulholland, Jimmy Laverty, Barney Mulholland, Paul Mulholland, Malachy Laverty
Town/Village/County: Armoy, Antrim

Vocals:

Barney Mulholland


Lead Guitar:

Malachy Laverty


2nd Guitar:

Harry Mulholland


Bass:

Paul Mulholland


Trumpet:
Sax/Clarinet:
Trombone:
Drums:

Jimmy Laverty


Piano/Organ:
Manager:
Gateway | Showbands Index | Beat-Groups Index | Ceili bands | Contact IBA
Irish Bands Archive is a work in progress. Band photos, cuttings, posters, adverts, line-ups, etc. to be added to the online archive are always welcome and appreciated. If you have anything to contribute, please contact us by email.
© francis beirne kennedy | 2001-2020