The Odeon Showband

Related:
Memphis, Mick Delahunty, Jack Ruane, Clubmen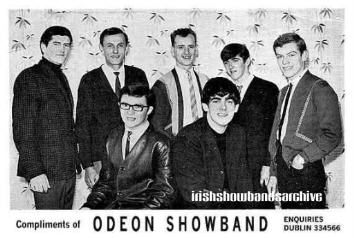 Town/Village/County: Clonmel / Dublin
Lead Vocals: Ernie Piggott
Lead Guitar: Alan Gregory / Jimmy Ledwidge
2nd Guitar:
Bass: Fergie Gibson
Sax/Clarinet: Horst Henchel
Trumpet: Paddy Byrne
Trombone: Jack Bayle
Drums: John Fennessy
Organ/Piano:
Manager:
Gateway | Showbands Index | Beat-Groups Index | Ceili bands | Contact IBA
Band photos, cuttings, posters, adverts, line-ups, etc. to be added to the online archive are always welcome and appreciated. If you have anything to contribute, please contact us.
© francis beirne kennedy | 2001-2020