The Monarchs
Related: Freshmen, Top League, Bojangle
=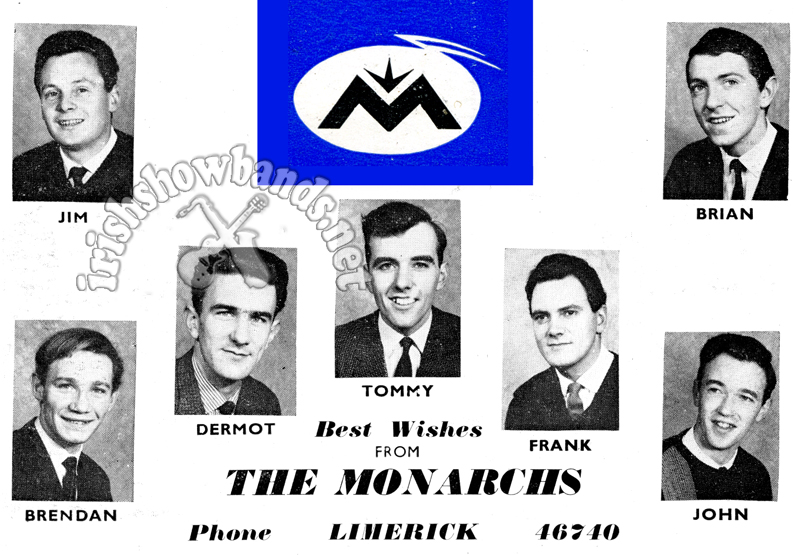 Former boy-soprano Tommy Drennan spent some time with The Freshmen before coming home to Limerick to front The Monarchs.

Lead Vocals: Tommy Drennan
Lead Guitar: Brendan Moynihan /

Frank Coughlan / Ray Fitzgerald / Gerry Fitzgibbon


2nd Guitar:

John Frawley


Bass: Dermot Heraty
Sax/Clarinet:

Frank Hogan

Trumpet: Jim Connolly
Trombone:
Drums: Frank Hogan
Organ/Piano:

Brian Meehan


Manager: Ray Heraty

Discography - soon

Gerry Fitzgibbon joined The Monarchs in 1970. Replacing Ray Fitzgerald as lead guitarist. He remained with the band until they dissolved. Then he joined Tina and the Real McCoy until their car accident. He then joined Danny Doyle, Maxi and the Music Box. After that he played with Maxi & Company before returning to Limerick and finished his showband career playing again with Tommy Drennan, where he began. Today he plays the Uilleann Pipes in local venues.
Gateway | Showbands Index | Beat-Groups Index | Ceili bands | Contact IBA
Band photos, cuttings, posters, adverts, line-ups, etc. to be added to the online archive are always welcome and appreciated. If you have anything to contribute, please contact us.
© francis beirne kennedy | 2001-2020