'Flying Carlton' were the U2 of the 1950s
The Flying Carlton in their hey-day in the 1950's: playing at the packed dancehalls. 'The Flying Carlton' in their hey-day in the 1950's: playing at the packed dancehalls. by Hubert Murphy (Drogheda Independent)
Drogheda's most illustrious danceband, the Flying Carlton, will be honoured in a night of pure nostalgia at the Glenside Hotel on October 30th 2011. Regarded as the ' U2 of their era' the band recorded some notable first nationwide records, including becoming the first Irish band to fly to a gig and the first group from the Republic to headline at the King's Hall in Belfast. At the end of the night they had to play ' God Save the King' - and didn't know the words!
One of their top members was the late Joe Leech and it's his grandson, Aidan Clarke, who is putting the show on. 'I was brought up on the Flying Carlton and their music and I just felt that they were too good to be forgotten. Now is as good a time as any to honour them,' he stated. For the night, he has brought together some of the top names in the Irish music world to form The Flying Carlton Legacy '.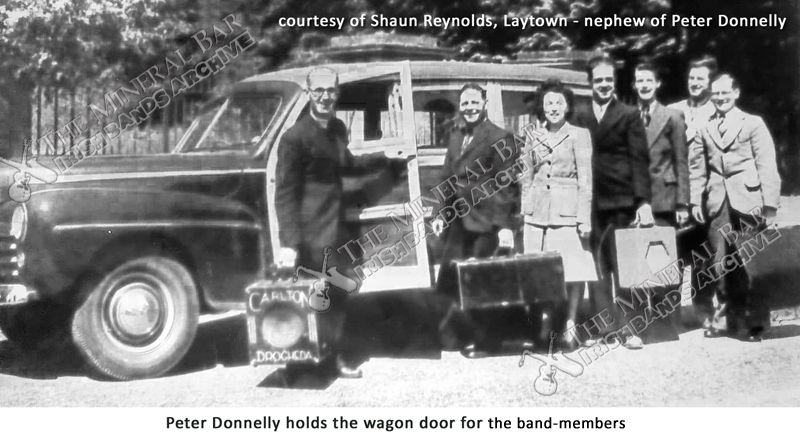 'The original band was almost unique. When a big hit would come out, my grandfather would get the music, do an arrangement and within a week they'd be playing it at their next gig. They were the forerunners of all the bands from Drogheda,' he added. They began life around 1939 and thrilled audiences the length and breath of the country for close on two decades. They became the first band to fly to a show, Dublin to Limerick, and within two weeks were off to another one in London.
They played a residency in the Abbey Ballroom and their partnership became synonymous with good times in Drogheda. 'It was actually the Drogheda Independent that got them the name. They were called the Carlton before they took that first flight and then the paper christened them the Flying Carlton,' Aidan explained.
The arrival of Rock n' Rock killed the dancehall days in many ways and the years of travelling certainly took their toll on the members, Joe Leech passing away at the age of 54 in 1964. 'Whenever I mention the Abbey and the Flying Carlton people say they were great days. On October 30th we hope to recreate the Abbey and the band and I think people will love it. I've spoken to my uncle Dermot Leech about the band, and former members, and we hope that Sid Kierans, Jez Delaney, Peter Milne and Willie Healy will be there on the night to mark the occasion,' Aidan stated.