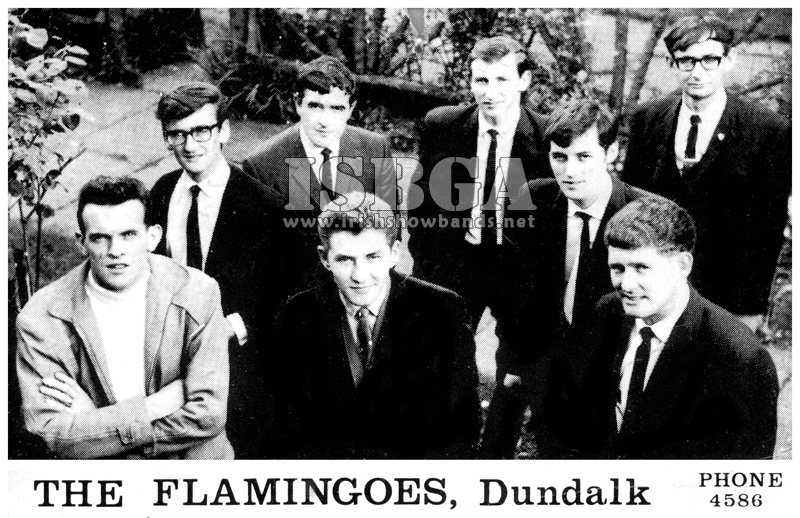 Vocals: Patsy Woods
Lead Guitar: Eamon Cooney, Aiden Lee
2nd Guitar: Terry Grey, Paddy Keaton
Bass: Tony Keating
Trumpet: Frank Waters
Sax/Clarinet: Sean Farrell, Patsy Conroy
Trombone: Bernie Bingham
Drums:
Piano/Organ: Dessie Wilson
Manager:
| | |
| --- | --- |
| LISTEN TO THE FLAMINGOES >>> | Your browser does not support the audio tag |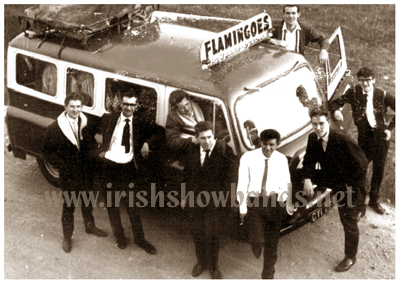 From left: Frank Watters, Paddy Keating, Patsy Woods, Patsy Conroy,
Aiden Lee, Des Wilson, Tony Keating, Sean Farrell
Gateway | Showbands Index | Beat-Groups Index | Ceili bands | Contact IBA
Band photos, cuttings, posters, adverts, line-ups, etc. to be added to the online archive are always welcome and appreciated. If you have anything to contribute, please contact us.
© FBK | 2001-2020