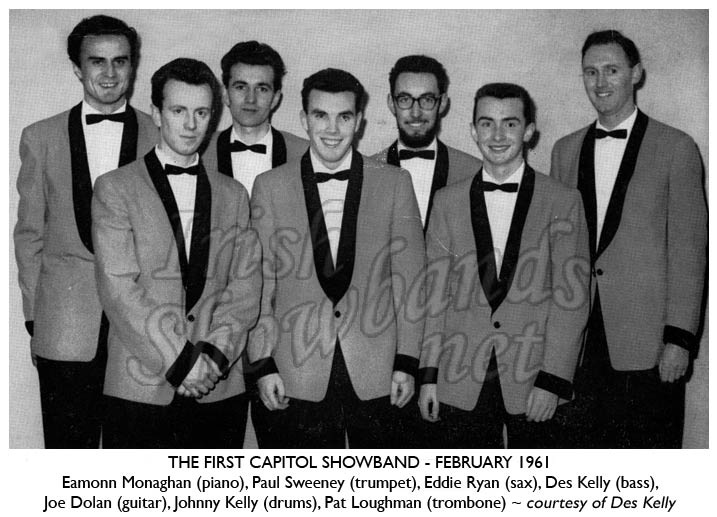 It's unlikely that when teenager Des Kelly put his first group together with his brother John and sister Bernie in the village of Turloughmore, Co. Galway in 1953, that he saw himself onstage at the London Palladium as leader of one of Ireland's top showbands, but that is exactly what happened in the space of a few years. Along with local musicians Michael Costello (accordion), Joe Morris (fiddle), Joe Killarney (drums) and Bridie Carrick (piano/vocals), they played at local dances as The Quicksilver Dance Band. During these early years, other musicians such as Christy Dooley, Mickey Devaney and Frank O'Brien also played with the band.
Having completed two years studying agricultural science at U.C.G., Des had to move to U.C.D. to complete his degree and soon, along with fellow-students Paul Sweeney (trumpet), Eamonn Monaghan (piano) and Tommy McNamara (drums), he formed The Claddagh Quartet. Des recalls: "In the summer of 1959, Paul and Eamonn came to Galway for the summer holidays, and along with my brother Johnny, Mickey Devaney and Christy Dooley, we played around Galway as The Des Kelly Band. It was when we returned to Dublin that September, on the advice of our good friend Tom Doherty, that we decided to form The Capitol Showband. We agreed to play part-time and to continue our studies for one year and see how it would work out".
Eddie Ryan (tenor sax) and Pat Loughman (trombone) joined and two members of one of Dublin's leading bands, The Blue Clavons, Butch Moore and guitarist Jimmy Hogan were also enlisted. As Hogan was tied to a contract for a few months, Galwayman Joe Dolan stepped in temporarily on guitar. Joe later became a member of the very successful folk-group, Sweeneys Men. Tom Doherty's brother Jim became manager of the band.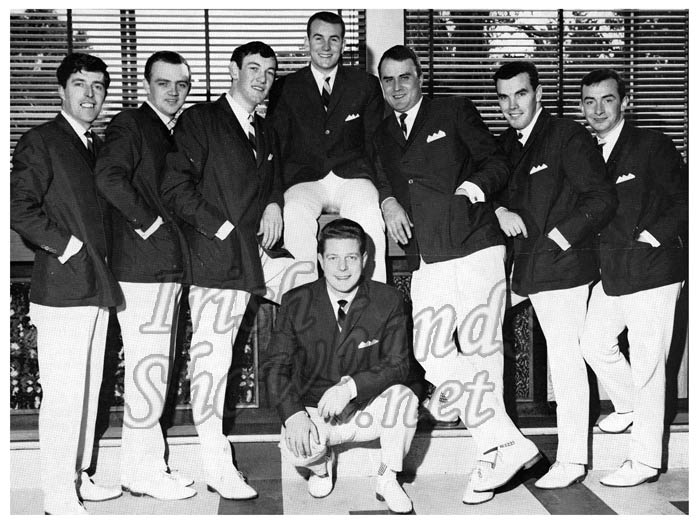 After one year, there was no doubt in their minds that they should turn professional as they had built up a huge following in the Dublin area. Ryan and Loughman however, opted not to go full-time, so the search was on for two replacements. Cork trombonist Don Long was signed from Donie Collins' Band and Paddy Cole came from the Maurice Lynch Showband in Castleblayney. Now The Capitol had a versatile line-up, all singers and capable of playing a wide variety of music, from jazz to ballads, from country to pop. This versatility was always the Capitol's strongest feature. The only further change in their line-up was when Paul Sweeney decided to leave and continue his architectural studies and another Corkman, Bram McCarthy joined the band.
Soon The Capitol were packing crowds in excess of 2,000 into ballrooms all over Ireland. Des Kelly remembers a crowd of 3,300 at Cork's Arcadia Ballroom, 2,700 at Galway's Seapoint on a Thursday night and they rarely had an attendance less than 1,500. Some of the numbers which made a big impact with dancers were "Angelina" sung by Don Long, Butch's interpretation of "You'll Never Walk Alone" and a parody on other showband stars which they called "More Money For You And Me"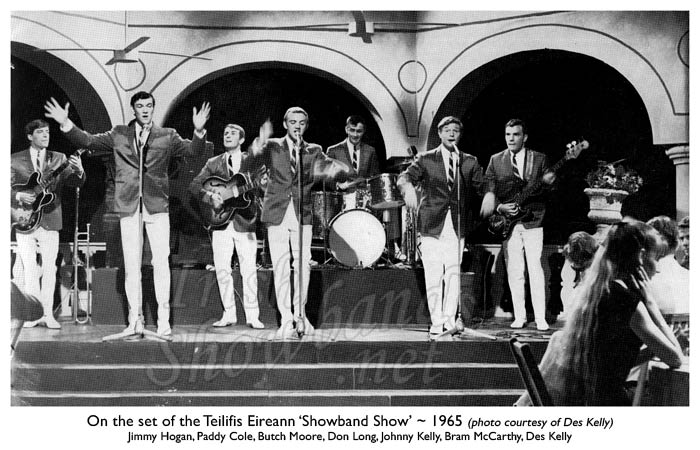 They notched a lot of "firsts" along the way. Their album "Introducing The Capitol Showband" was the first ever showband L.P. record, in May 1964 they were the first Irish showband to perform at the London Palladium, their first single, a Phil Coulter song "Foolin' Time" was the first showband original, they were the first showband to have their own weekly show on Radio Luxembourg in 1963, their fan-club (run by Monica McNelis and Máire Hurley) was one of the first in the country and they were among the first bands to distribute free colour photos and a booklet, "At Home And Abroad With The Capitols".
Their first Irish No.1 came in December 1964 with a slow ballad called "Down Came The Rain" featuring Butch Moore. They topped the charts four times in all, the others being "Born To Be With You" and "Walking The Streets In The Rain" (1965) and a ballad featuring Johnny Kelly, "The Black Velvet Band" which incidentally is the biggest-selling showband single ever, staying in the charts for more than twenty-five weeks in 1967.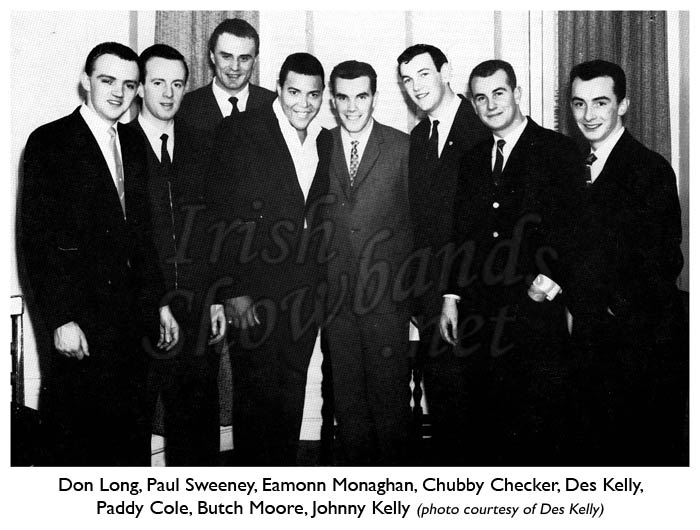 The Capitol made numerous appearances on television, including RTE's "Showband Show", ITVs "Thank Your Lucky Stars" and a unique performance on "Noble Call", when four of the lads, Des, Johnny, Jimmy and Paddy performed traditional Irish music for the complete 30-minute show! They shared the bill at the London Palladium with Roy Orbison, The Bachelors, Jess Conrad, Leslie Crowther, Des O'Connor and fellow-Irishman Pat McGeegan. "The Capitols Christmas Party" compered by Gay Byrne went out live on RTE Radio on Christmas Day 1963. They travelled to play in the U.S.A. fifteen times in all.
Butch Moore was Ireland's first-ever representative in the Eurovision Song Contest when he sang "Walking The Streets In The Rain" in Naples, Italy in 1965. Though finishing in 6th position, his performance catapulted him to super-stardom here at home. For months he was mobbed at every public appearance and in a way his success took the spotlight away from The Capitol as an all-round showband.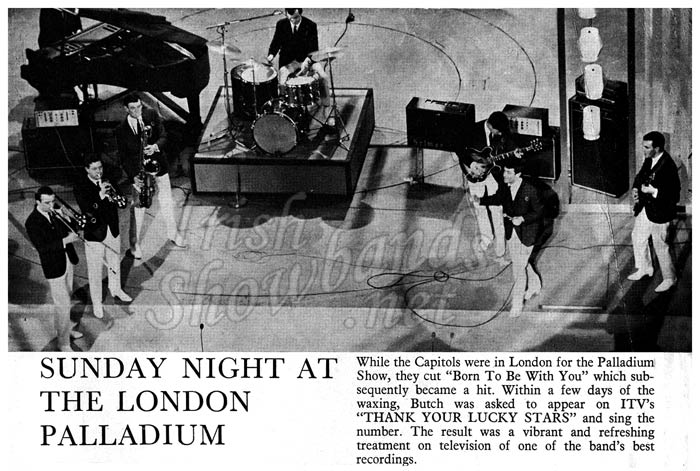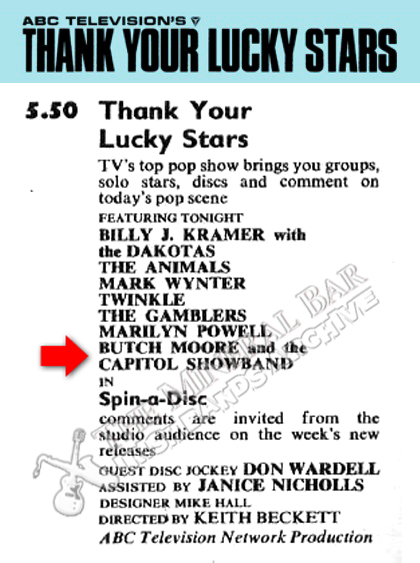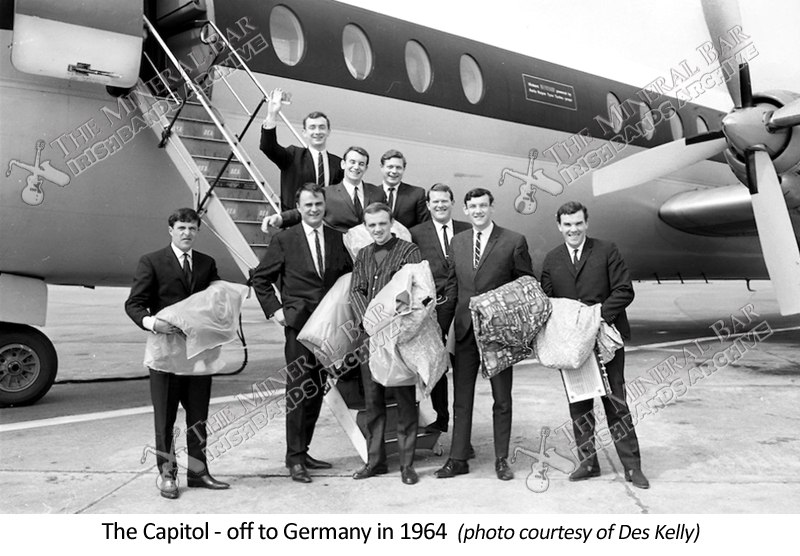 Des Kelly says: "The Capitol Showband died on the day Butch Moore left us in 1967. We needed Butch and he needed us. However, he was tempted by an offer to front a four-piece cabaret group which never really worked out for him". First Scottish singer John Drummond came in as a replacement and later, a young Dublin singer named Noel McNeill, who was resident at Butlin's Holiday Camp, was recommended, and joined the band. Unfortunately, for personal reasons, Noel decided to leave the band after a year. Many would say however, that there was still life left in The Capitol! Des Kelly's single, a country ballad called "The Streets Of Baltimore" was a big hit in 1966 and is still requested regularly on local radio stations. Then in 1967 they had their biggest hit of all with "Black Velvet Band". When the Kelly brothers left in 1971, the band continued for a few more years with many changes from the original line-up. The original band reunited for a very successful 21-date tour in 1984.
Sadly, some of the original members have passed away. In a strange twist of fate, Johnny Kelly and Bram McCarthy died within two days of each other in 1987. Butch Moore passed away in the U.S.A. in 2001. Des Kelly died in 2017. Eamonn Monaghan has a bathroom business called "Elegant John", Don Long lives in Manchester, Paul Sweeney is an architect in Dublin, Paddy Cole leads his own band and Des, Don, Jimmy and Paul still play good live music, what their Capitol Showband were famous for in the '60s.
All text on this page is strictly copyright of FBK and the Irish Bands Archive and should not be reproduced anywhere without permission
Personnel

Vocals: Butch Moore, Noel McNeill, Tony O'Leary
Lead Guitar: Jimmy Hogan
2nd Guitar: Joe Dolan
Bass: Des Kelly, John Drummond, Mike Dalton
Trumpet: Paul Sweeney, Bram McCarthy
Sax/Clarinet: Eddie Ryan, Paddy Cole
Trombone: Pat Loughman, Don Long
Organ/Piano: Eamonn Monaghan
Drums: Johnny Kelly, Mickey O'Neill
Manager: Tom Costello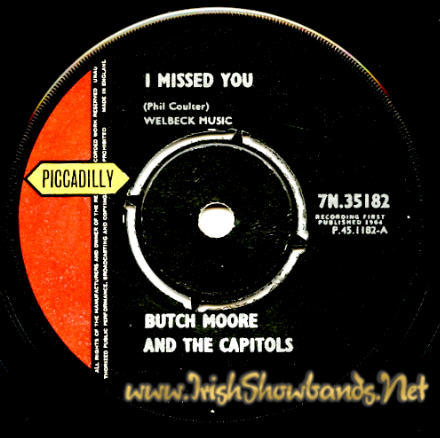 The Capitol Showband Discography (compiled by Eddie Kelly)
Singles: (7" / 45 r.p.m.)

1963 If You Wanna Be Happy / My Lagan Love - Headline 1019 (USA) (vocals "Happy" Don Long) ("Lagan" inst. Paddy Cole)
1964 Foolin' Time / Too Soon To Know - Piccadilly 7N 35170
1964 I Missed You / Touch Me - Piccadilly 7N 35182
1964 Down Came The Rain / Bye Bye Till Then - Pye 7N 15727
1965 Born To Be with You / Far Far Away - Pye 7N 15789
1965 Walking The Streets In The Rain / I Stand Still - Pye 7N 15832
1965 Words / Mistakes - Pye 7N 15871 (not issued)
1965 Our Love Will Go On / Words - Pye 7N 15910
1965 So Many Ways / Granada - Pye 7N 15990
1965 A Christmas Wish EP - Pye NEP 24235
1966 Honey And Wine / Boolavouge - Pye 7N 17025 (Inst. Featuring Jimmy Hogan mandolin)
1966 Spanish Eyes / I Gotta Know - Pye 7N 17143
1967 Streets Of Baltimore / McAlpines Fusiliers - Pye 7N 17257 (vocals Des Kelly)
1967 Sorry Bout That Chief / Peggy O'Neill - Pye 7N 17271 (vocals Don Long)
1967 Black Velvet Band / The Nightengale - Pye 7N 17322 (vocals Johnny Kelly)
1968 Bottle Of Wine / Creole Jazz - Dolphin DOS 2 (vocals Paddy Cole/instrumental)
1968 Monkey Time / Song And Dance - Dolphin DOS 9 (vocals John Drummond)
1968 Break My Mind / Molly A Bye Bye - Dolphin DOS 13 (vocals John Drummond)
1968 The Muffin Man / Stranger On The Shore - Dolphin DOS 16 (vocals "Muffin" Paddy cole. "Stranger" Paddy on clarinet)
1969 I'll Be All Smiles / That's What It's Like (To Be Lonesome) - Dolphin DOS 30 (vocals Johnny Kelly)
1970 She Meant Everything / Whole World Shaking - Dolphin DOS 61 (vocals Tony O'Leary)
1971 We Will Make Love / Charlie Brown / Yaketty Yak - Ruby RUB 130 (vocals Tony O'Leary)

L.P.s (33.3 r.p.m.)

1962 Presenting The Capitol Showband LP - Envoy VOY 9144
1965 Many Faces Of Ireland's Capitol Showband LP - Pye NPL 18119
1967 The Capitol Showband LP - Marble Arch MAL 694
1968 The Best Of Butch Moore LP - Marble Arch MAL 763
1985 Live From The Opera House, Cork - Music City MCLP 1006
1994 Live From 1963 (M.C. only)
The Capitol Showband on CD

2006: A Collectors Item CD (re-issue of 'Live From 1963' MC with bonus track)
Honey And Wine : Irish Showbands Get Down With It - Sequel NEX CD 261
The Christmas Song : Sequel's Sixties Christmas – Sequel NEXCD 984
Santa Claus Is Coming To Town : Sequel's Sixties Christmas – Sequel NEXCD 984
I Missed You : Beat Beat Beat Volume Three Mop Top Pop – Castle CMDDD 517
Spanish Eyes : The Fabulous Irish Showbands – Castle pulse PBXCD 476/1
Brahm's Lullaby : The Fabulous Irish Showbands – Castle Pulse PBXCD 476/2
Bould O'Donoghue : The Fabulous Irish Showbands – Castle Pulse PBXCD 476/3
The Tender Years : The Fabulous Irish showbands – Castle Pulse PBXCD 476/4
Down Came The Rain : Irish Showband Collection – Pulse PBXCD 323/1
Black Velvet Band : Irish Showband Collection – Pulse PBXCD 323/1
Our Love Will Go On ; Irish Showband Collection – Pulse PBXCD 323/1
Foolin' Time : Irish Showband Collection – Pulse PBXCD 323/2
Streets Of Baltimore : Irish Showband Collection – Pulse PBXCD 323/2
Walking The Streets In The Rain – Irish Showband Collection – Pulse PBXCD 323/2
Born To Be With You – Irish Showband Collection – Pulse PBXCD 323/3
So Many Ways – Irish Showband Collection – Pulse PBXCD 323/3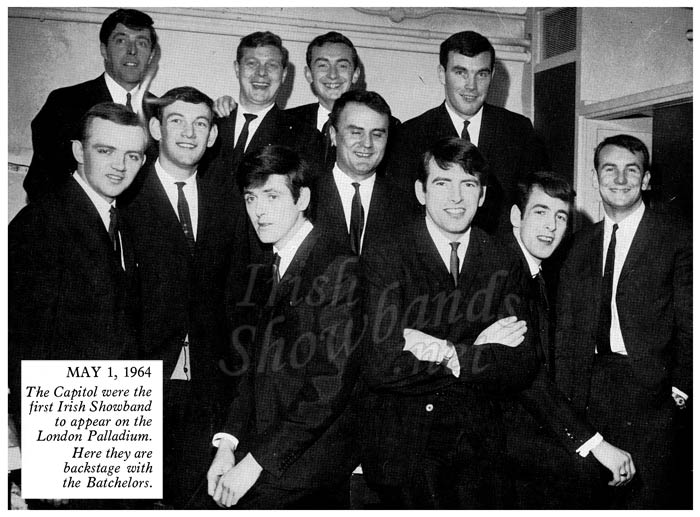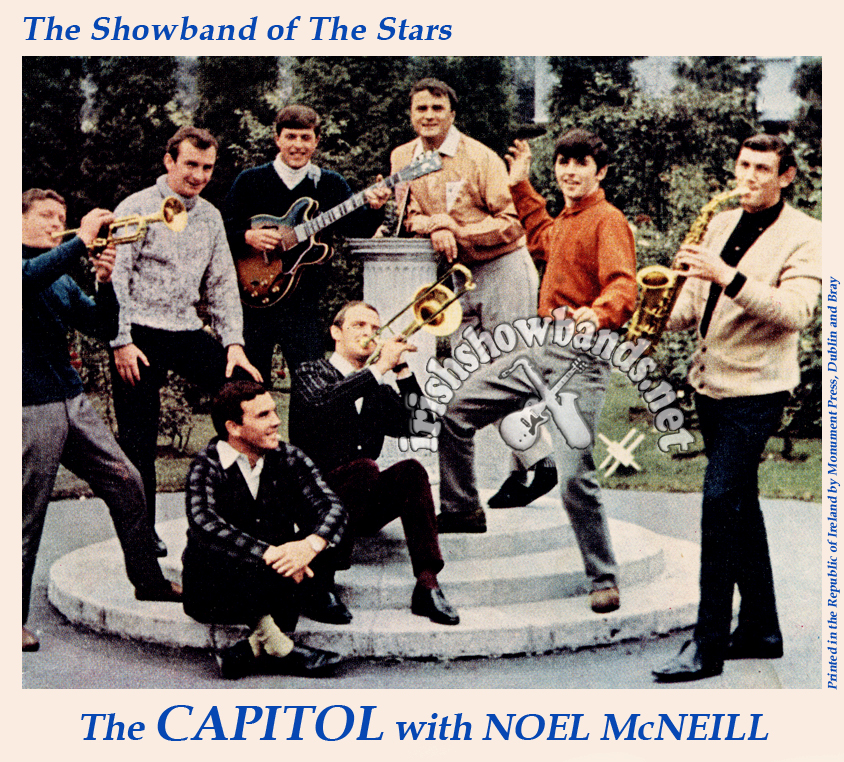 Gateway | Showbands Index | Beat-Groups Index | Ceili bands | Submit a Photo
Band photos, cuttings, posters, adverts, line-ups, etc. to be added to the online archive are always welcome and appreciated. If you have anything to contribute, please contact us.
© FBK | 2001-2020