| | |
| --- | --- |
| | |
| Back: Tommy Ryan, Jimmy Reilly; Middle: John Cosgrove, Frank Fahy, Eamonn Ryan; Front: Willie Brogan, Tommy Walsh | Back: Jimmy Reilly, Pat Columb, Willie Brogan, Tommy Ryan. Front: Eamonn Ryan, Stan McCormack |
LISTEN TO THE BANDITS >>>
Vocals: Tommy Ryan, Frank Fahy, Marty Walsh
Guitar: Eamonn Ryan, Mike Lawless, Patrick O'Reilly, Johnny Walsh
Bass: Tommy Ryan, Finian Thomas
Trumpet: Tommy Walsh, Stan McCormack, Noel Carroll
Sax/Clarinet: Jimmy Reilly
Trombone: Willie Brogan
Drums: Pat Columb, Johnny Cosgrove, Donie Trautt, Mike Lawless
Manager: Raymond O'Brien
The Bandits Showband was formed by members of The Paramount Showband and was one of the many bands in Tuam in County Galway. Managed by Raymond O'Brien, now a newsagent on Galway's William Street, they were fronted by bassist Tommy Ryan who had a velvet voice reminiscent of Jim Reeves and vocalist Frank Fahy. Also in the band were Willie Brogan, Eamon Ryan, Jimmy Reilly and Stan McCormack who was there until the band went off the road in the early 1970s.
"Eamon Ryan, RIP and I were the original co-founders, Raymond O'Brien saw an opportunity to put two young, promising musicians who were playing with Liam Ivory at the time, together with some members of a disbanding showband, The Paramount. Jimmy Rielly was made leader of the band and we practised in a room over The Chariot Wheel restaurant owned by our new manager Raymond O'Brien." ~ Johnny Cosgrove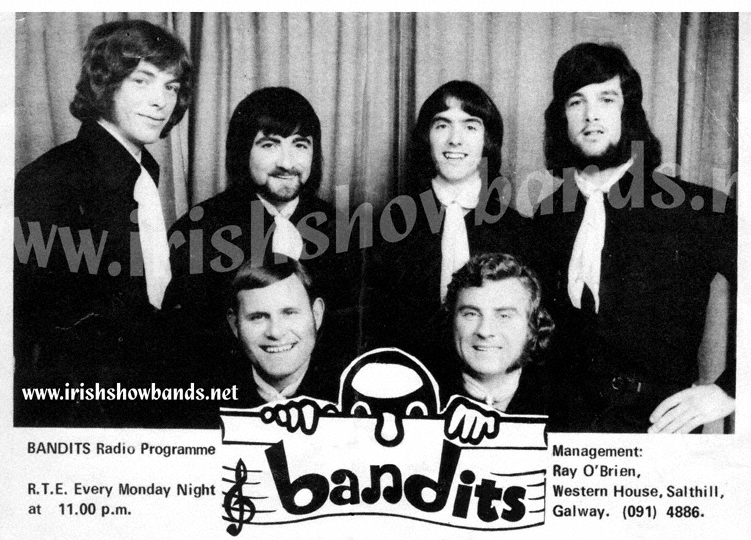 Back: Mike Lawless, Marty Walsh, Noel Carroll, Finny Thomas. Front: Stan McCormack, Jimmy Reilly.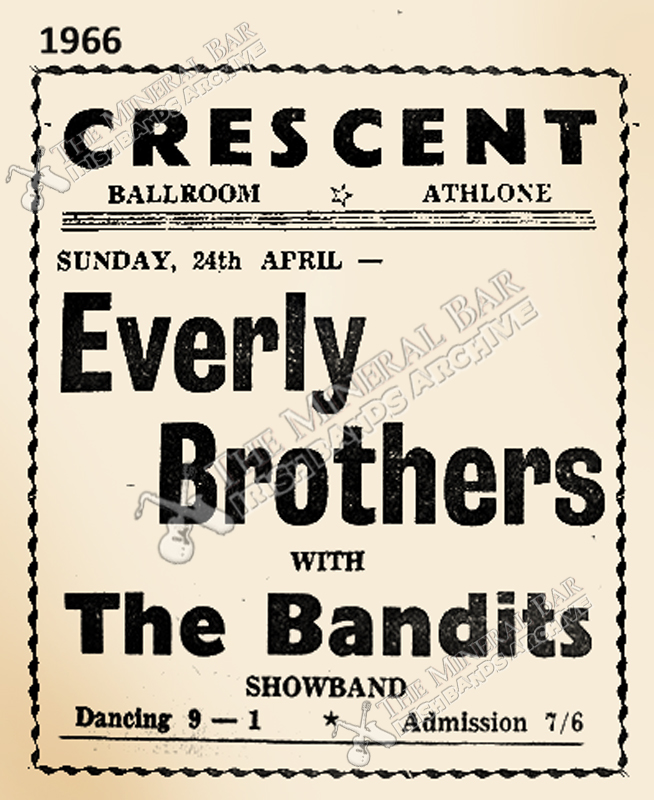 Selected Discography
1966: River Man / Rosa Rio Emerald MD 1047
1967: One More Ride / Bright City Lights Emerald MD 1069
1968: Schuman Was His Name / Mrs. McGrath Emerald MD 1107
1970: Picture From Life's Other Side / Barefoot Nelly Emerald MD 1142
1970: A Motherís Loveís A Blessing / Deepening Snow Emerald MD 1153
'Rosa Rio' on CD - The Very Best Of The Original Irish Showband Greats - Emerald ERTVCD 0027
'Bright City Lights' on CD - Irish Showbands Volume 3 - Music Bank APWCD 1083
'Barefoot Nelly' on CD - The Best Of Irish Showband Hits - The Greatest Dancehall Hits - Emerald EGCD 7113
Gateway | Showbands Index | Beat-Groups Index | Ceili bands | Contact IBA
Band photos, cuttings, posters, adverts, line-ups, etc. to be added to the online archive are always welcome and appreciated. If you have anything to contribute, please contact us.
© FBK | 2001-2021