Old Cross
Céili Bandshow

If you would like to share your memories of The Old Cross Céili Bandshow, if you are a band-member or have a different photo to those on this page, please let us know by clicking on the Contact button below. Comments and memories of friends, band-members and fans will be published on this page.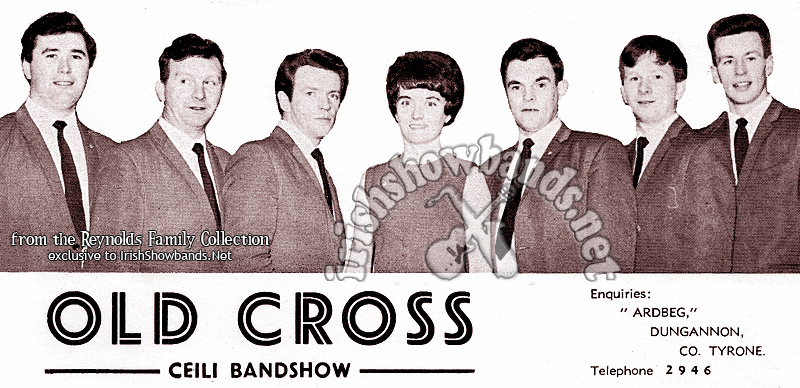 Town/Village/County: Dungannon, Tyrone

Lead Vocals: Philomena Begley
Accordion:

John O'Neill


Accordion:
Fiddle:
Fiddle:
Flute:
Drums:

Kevin Casey


Piano: Tom Quinn
Other:
Manager:

"A very old photo. They became Philomena Begley and the Ramblin Men in the '70s. The line-up in the photo is (from left) John O'Neill still playing accordion with Cream of the Barley group. On the right of Philomena is Kevin Casey drummer, Next is Brian McNally RIP and last is Tom Quinn, keyboards and married to Philomena with a family. Aidan Quinn is their son who now plays with his own band and often accompanies his mum in concerts all over the world" ~ Mona.

Thanks Mona!
Gateway | Showbands Index | Beat-Groups Index | Ceili bands | Submit a Photo
If your '60s/early '70s céili band is not here, please send a photo and the line-up via email and it will be added to the
Irish Bands Archive
© francis beirne kennedy | 2001-2020