FRUUPP INDUCTED INTO FRIARS AYLESBURY HALL OF FAME (July 2011)

Northern Ireland's finest, Fruupp, have received a special award marking their past achievements. The world renowned Friars Aylesbury rock club in Buckinghamshire has awarded the band its highest honour, the Friars Heroes Award, effectively inducting them into the legendary venue's hall of fame alongside artists such as Mott The Hoople, Stiff Little Fingers, The Jam, The Pretty Things, Steve Harley, Steve Hackett, Howard Jones, Marillion and many more.

Friars Aylesbury was established as a club 'for the musically aware' in 1969 and presented over the following 15 years a Who's Who of the music world (everybody from Free to U2 to Captain Beefheart to Kid Creole and the Coconuts) and is acknowledged as the catalyst for national success for many now legendary bands including Mott The Hoople, Cockney Rebel, Genesis and a certain David Bowie whose Ziggy Stardust performance in 1972 remains the most talked about gig. The club reopened in 2009 to commemorate its 40th anniversary and since then has started presenting gigs again including the spiritual 'homecoming' of Stiff Little Fingers and a never to be forgotten gig by Paul Weller in 2010.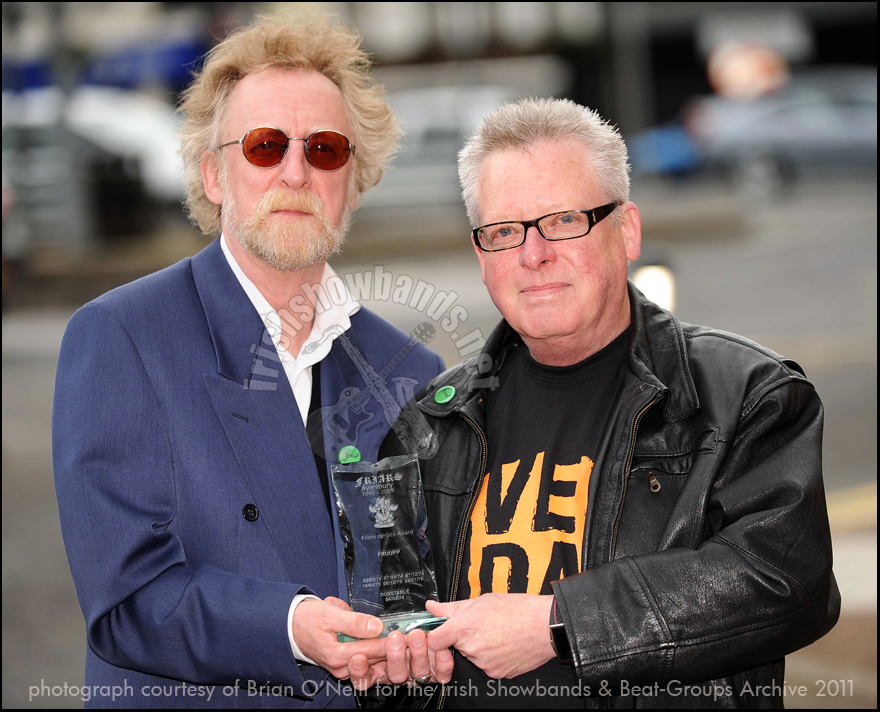 Fruupp drummer Martin Foye (left) pictured with the Friars Heroes Award and friend, Brian O'Neill

The Friars Aylesbury website documents the club's entire history and has been honouring those very special and diverse artists who made a huge impression in Aylesbury. Website curator Mike O'Connor said: "We are delighted to honour Fruupp, a hugely popular band at Friars in the mid 1970s. They first played Friars supporting an on the up Queen in 1974 and made such an impression on the discerning Friars audience that within months were making the first of several successful headlining gigs. Our congratulations to them" ~ Brian O'Neill 2011