Ireland in the Fixties ~ Outdoor Entertainment
.
.
The flicks were undoubtedly our most popular night-out but once a year, the 'amusements' would come to town. Murrays were the proprietors of the travelling funfair that came to my town every August but there were others on the road too, including McFaddens, Tofts and Perks. Murray's Chair-o-Planes were much bigger than the one shown here and at top speed, the chains would be almost horizontal. Dangerous? Yes.
.

In Britain, they were called Dodgems because the aim was to avoid crashing into any other car but in Ireland they were The Bumpers because the aim was to . . .? Two-seater cars on a metal floor with a vertical pole coming from the back connecting with the charged metal ceiling. To get working on The Bumpers was a badge of honour, especially if one stopped and you had to jump on the back bumper and bend the metal connection to get it moving again. Children screamed for the full three minutes and cool dudes drove with one hand, usually backwards!
.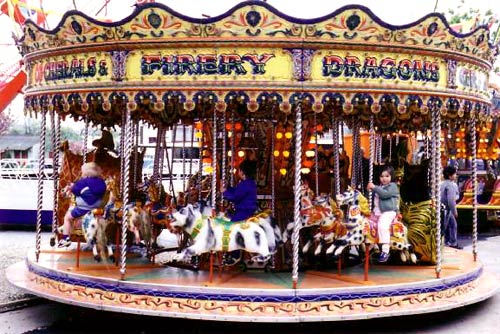 .
Hobby-horses. A carousel for the younger kids. A simple idea but it was rarely empty.
.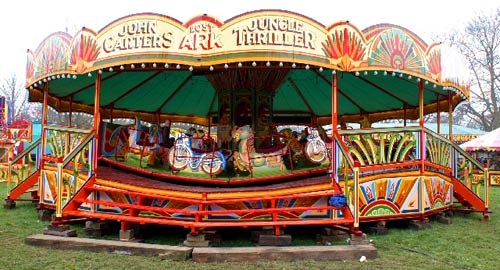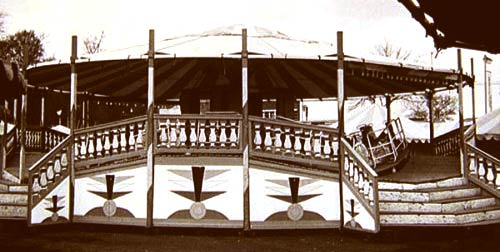 .
These were the 'motor-bikes'. Hobby-horses in disguise but a macho teenager could ride these when he wouldn't be seen dead on the hobby-horses. The lower photo is from Butlin's, Mosney in the early '60s.
.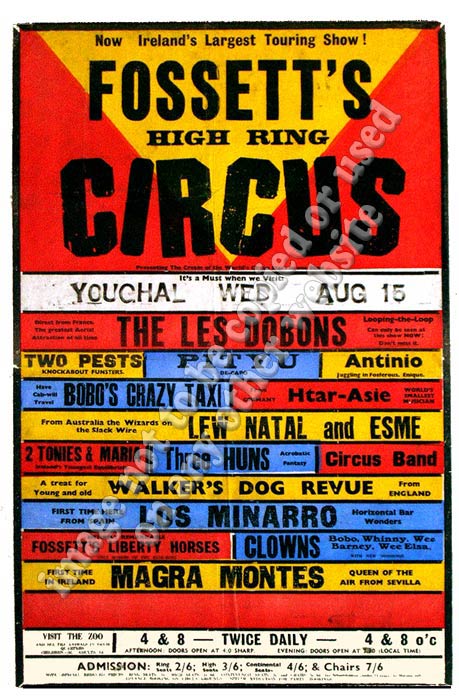 .
For years I searched for an original Irish circus poster and I eventually acquired one a few years ago. This one is from 1964. There were weeks of anticipation for the arrival of Fossett's or Duffy's Big Top and boy did we enjoy them! Life was not as 'politically-correct' in the Fixties, so we had dwarfs working as clowns and no shortage of animals.
.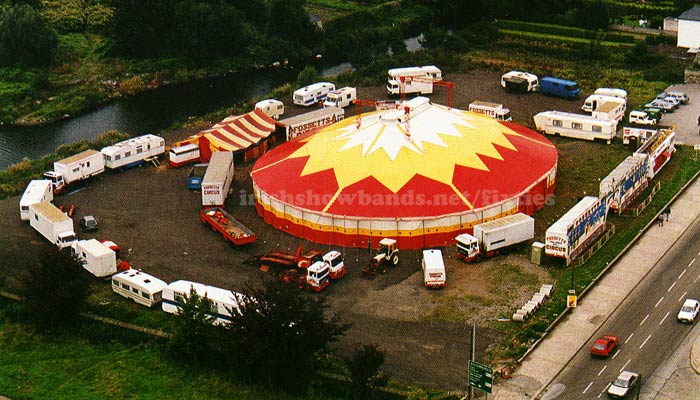 .

This photo of Fossett's Circus big top was taken at the Lee Fields in Cork. Unfortunately, 1980s, not Fixties. If anyone has an older one, please send it to me.
.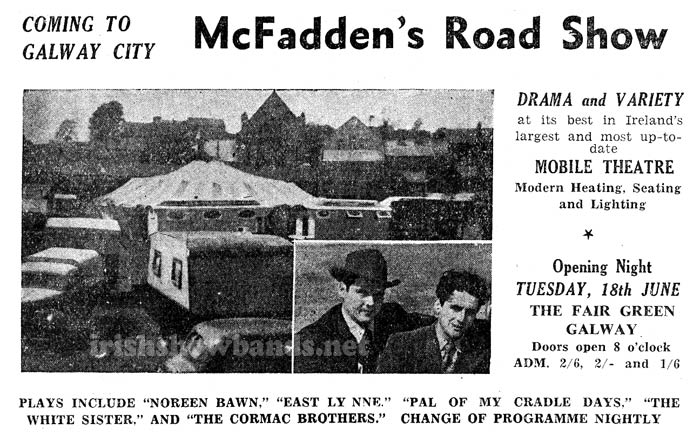 ..
I was delighted to find this advert in an old Connacht Tribune. The travelling variety show was welcomed in every small town in Ireland. McFaddens and Courtneys were the ones with which I was familiar but Anew McMaster's Travelling Theatre was famous in the early days. They would stage a different play each night, usually a melodrama such as The Colleen Bawn, The Monkey's Paw or An Inspector Calls. They would often stage a talent competition with heats on week nights and the Grand Final on Saturday or Sunday night. I know of one showband singer who came second in one of those contests - playing a one-row button accordion!
.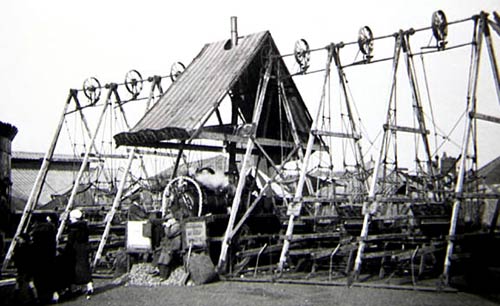 .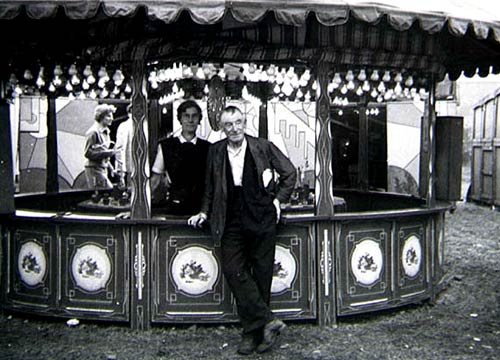 .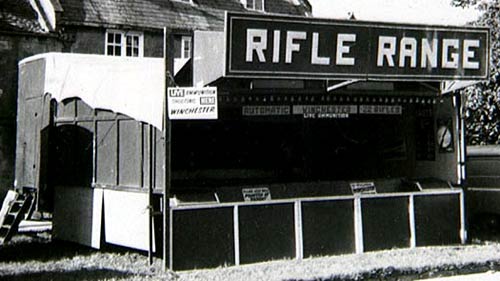 .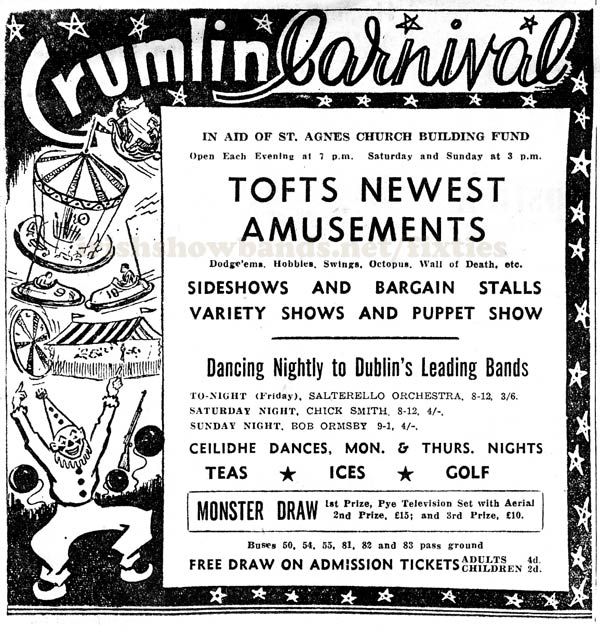 .
| | | |
| --- | --- | --- |
| | ... | |
.
Bertram Mills Circus toured Ireland in the '60s, I can't make out the year on the poster. Trains ran from all over Ireland to the Dublin Horse Show. Hurling, Gaelic Football, Rugby and Athletics and Soccer were popular sports. Cycling was also popular.
.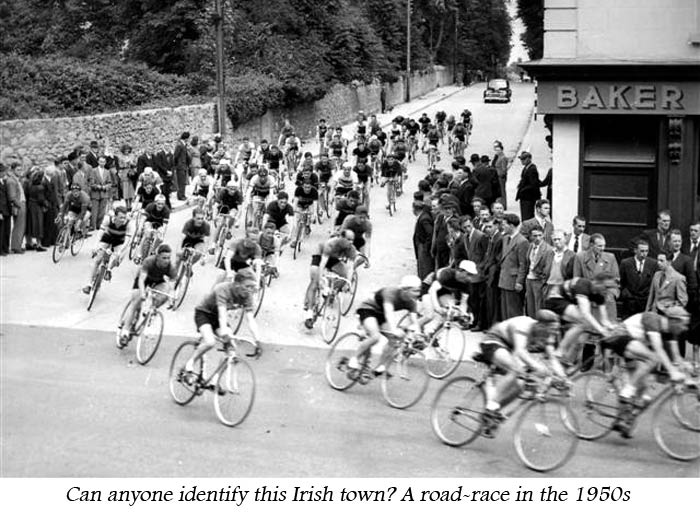 Thanks to Joe Dodd for identifying the town - it's Dun Laoghaire, Co. Dublin!
© francis k. 2008