Macbeth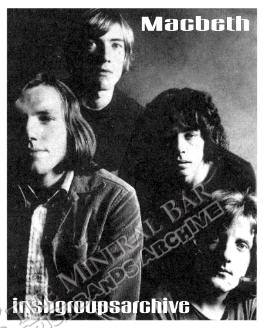 The band Macbeth was formed by ' Movement' bass player & vocalist Pat Quigley, (front right). Lead vocals, (front left) is Limerick man Eugene Wallace. Drummer (back left) is John Donnelly and lead guitarist is Joe Staunton. Jimmy Foley was van driver and friend. Julie Boyd from Spotlight often travelled to gigs around the country. Where is she now?
The band was quite successful but short lived. Eugene Wallace who was a friend of actor Richard Harris was planning to go to London. Pat Quigley was approached by Phil Lynott in order to form 'Orphanage', Joe Staunton also joined with Brian Downey on drums.
Pat has never been given credit for helping Phil with his bass playing. They spent many hours in our flat in Fairview in mind numbing lessons and at Orphanage gigs Pat would hand over his Fender bass to Phil and take a break. ~ by Gabrielle Perry
Related:
Movement, Orphanage, Elmer Fudd
Do you have any more information on Macbeth? Can you fill in any spaces below? Do you have any photos, flyers, posters, press-cuttings or any other memorabilia? If you do, please send us an email and we'll tell you what to do next. If you don't want to part with your cherished memorabilia, good quality scans or photos would be gratefully accepted so that we can update this page and the archive in general. Click on 'Contact' at the bottom of this page.